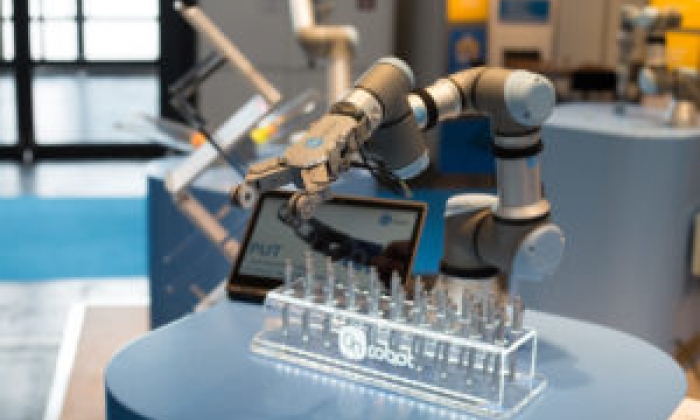 The newly formed OnRobot debuts new products at Automatica 2018
Munich/Odense, June 20, 2018 – the newly formed OnRobot, a combination of U.S.-based Perception Robotics, Hungary-based OptoForce, and Denmark-based OnRobot, – will be launching three new products at Automatica 2018: The 'Gecko Gripper', 'Polyskin Tactile Gripper',  'RG2-FT' and a major technical upgrade of the existing  'HEX' force-torque sensor product line based on OptoForce technology. These innovative solutions will open up new areas of application for collaborative robotics at the same time making implementation even easier.
"Collaborative robots have the potential to become the comprehensive standard in industrial automation," says Enrico Krog Iversen, CEO of OnRobot. "We want to contribute and unleash this potential by taking the next step: To make collaborative applications even easier to implement and to take them into completely new areas of application – this is the rationale for all our new products that we are presenting here at Automatica".
Innovative gripping with Gecko and NASA technology
See product here
Developed by the start-up Perception Robotics which merged with OnRobot, The 'Gecko Gripper', offers a completely new approach – its inspiration coming from nature, applying the same adhesive system for gripping as that of the feet of a gecko: millions of fine fibers adhere to the surface of the workpiece to generate strong van der Waals forces. For the 'Gecko Gripper' technology, OnRobot licenses a concept originally developed by NASA Jet Propulsion Laboratory (JPL) and brought it to market maturity.
The unique and fast moving solution makes vacuum grippers and thus the necessity of a compressed air system for handling large, flat objects unnecessary. In contrast to vacuum grippers, the 'Gecko Gripper' seamlessly handles perforated or porous workpieces such as printed circuit boards. The gripper is compatible with Universal Robots and Kawasaki robotic arms. The high degree of innovation has led to the system being among the three finalists of this year's renowned IERA Award. The renowned robotics prize for innovation and entrepreneurship is awarded at Automatica.
More sensitivity for demanding workpieces
The new 'Polyskin Tactile Gripper', also from the merger with Perception Robotics, features sensitive gripping. Its two fingers can be individually aligned and have integrated tactile sensors at its fingertips. The gripper precisely measures the condition of an object's surface and aligns its gripping processes accordingly. These properties make it a fundamental enrichment, especially when working with sensitive or irregular objects. The Polyskin Tactile Gripper is also compatible with Universal Robots and Kawasaki.
Gripper for precise assembly
See product here
OnRobot will be launching the 'RG2-FT' a variation of the original 'RG2' gripper. This new version has integrated force-torque sensors and a proximity sensor, that accurately detects the condition of objects. This model of gripper is particularly suitable for use in precision assembly and is compatible with lightweight robots from Universal Robots and KUKA.
Fast installation for sensors
See product here
The OnRobot product line for force-torque sensors based on OptoForce technology, 'HEX', whilst not a new product, will be revealing a substantial technical upgrade. The innovations are primarily designed to make installation and handling of the sensors even easier and faster: Mounting is now up to 30 percent faster, partly thanks to overload protection now integrated into the sensor, which no longer has to be removed and mounted separately when attaching to the robot arm. Furthermore, the weight of the sensor can be reduced by 20 percent. With a new, improved sealing ring the 'HEX' products are better protected against dust and water.
You can download high-resolution images here or send an inquiry to onrobot@maisberger.com
About OnRobot
OnRobot, based in Odense, Denmark, offers technologies — both hardware and software — used in end-of-arm tooling, mainly for collaborative robots (cobots). OnRobot is based on On Robot, which was founded in 2015 by Bilge Jacob Christiansen and Ebbe Overgaard Fuglsang. OnRobot integrates grippers, sensors and other cobot equipment to facilitate the use of the technology in applications such as packaging, quality testing, material handling, machine tending, assembly and welding, and is planning to acquire and manufacture additional technologies with worldwide support. In addition to its headquarters in Denmark, OnRobot now has consolidated sales offices in Germany, China, U.S., Malaysia and Hungary.