KAREN DODSON MURALS DECORATE ONROBOT OFFICES ALL OVER THE WORLD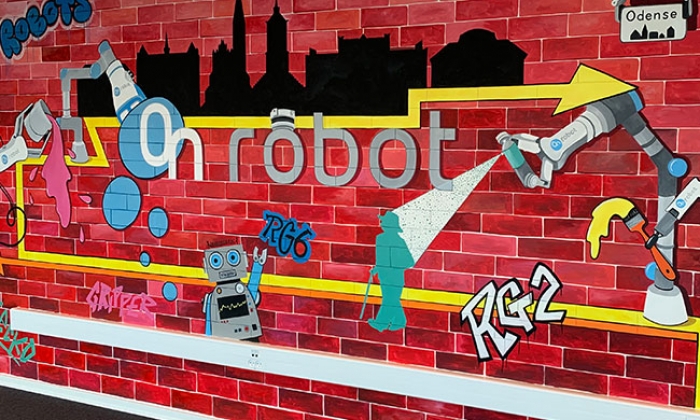 Karen Dodson got started painting murals at a rather young age. During her childhood, she said, "My mom was a bit of a hippie and she let me do what I wanted – including decorating my bedroom walls in murals I painted myself, I think that might be where I got started." Growing up with such creative freedom, she decided to go to college for art at Cal State Long Beach. 
After college, looking for a way to make a living as an artist, she made herself a business card that said she was a mural painter. When she moved to Dallas, all the moms took her card while she was painting a wall in a children's store and after that, she was booked solid for six months. And she was indeed a bona fide mural painter. 
Enter Victoria East, Sales & Marketing Supporter in OnRobot's Dallas office, who was looking for someone to create something special to decorate the new office. Kristian Hulgard, the GM for Americas, wanted a cool street style on the wall to signal a new company that was fresh, young and vibrant.
Karen was not only a mural painter, she had a whole section of cool robots made of found objects on her website. So, when Victoria stumbled across her via a Google search, she knew Karen was the right person for the job. Kristian gave her the brief – a funky, colorful, 80s, Fresh Prince-inspired graffiti and she got to work.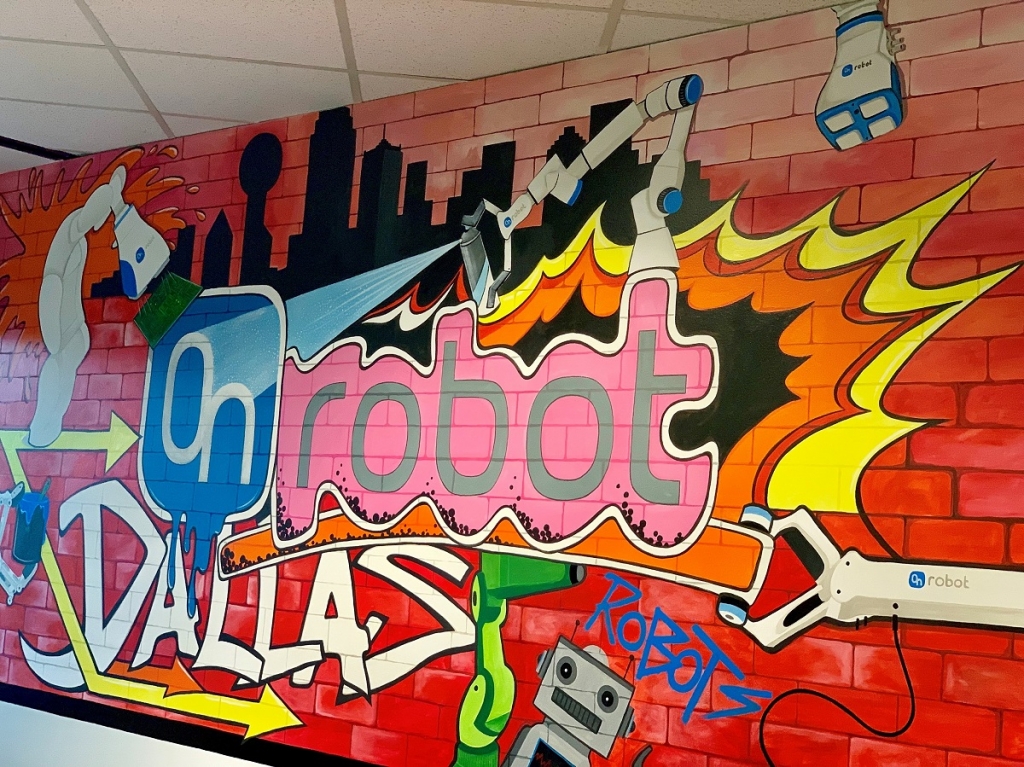 Then, when CEO Enrico Krog Iversen saw the wall at the opening of the Dallas office, he and Kristian decided that Karen just had to decorate walls in all the OnRobot offices, so very soon she found herself on a plane to Denmark. 
At the HQ office in Odense, she actually did two walls – one downstairs and one upstairs – both of which are visible from outside before you even come through the doors. They signal a playful, informal work environment that belies the serious work that gets done at the HQ.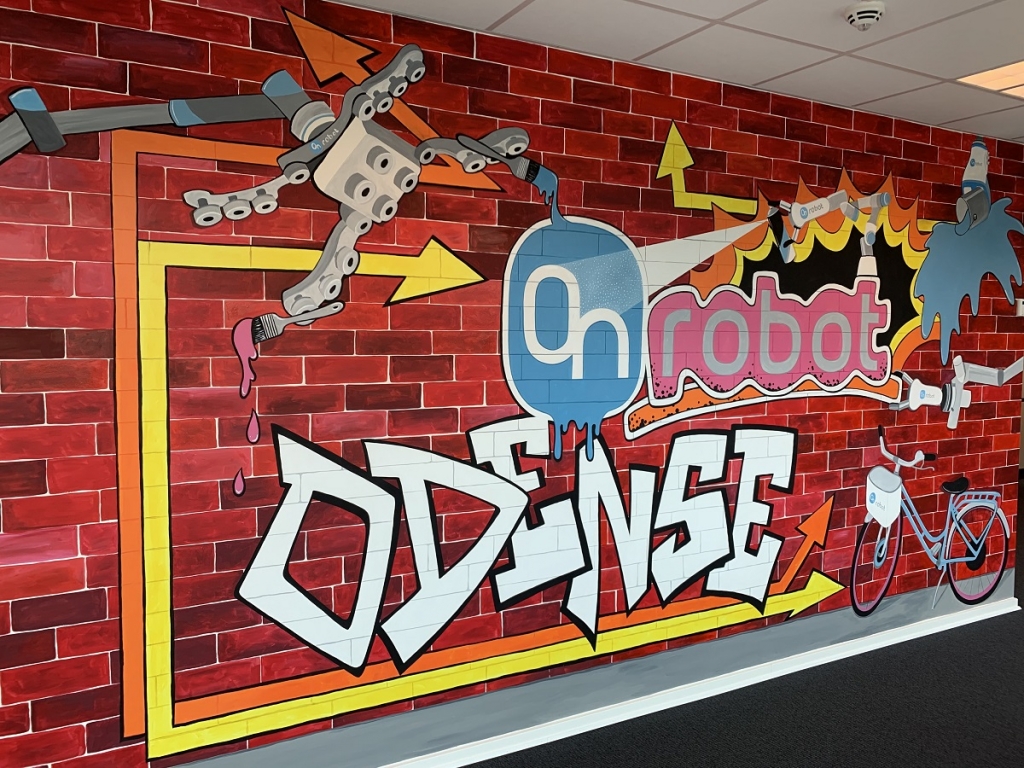 Then came the office in Soest, Germany. We asked Karen how she prepared for each location – she set the tone with Dallas' skyline and continued creating a "skyline" of all the best-known buildings in Odense, but what about Soest? She researched what she could online before she came, and of course, was briefed by the OnRobot colleagues in the office, but she said that what was most beneficial was taking a walk around the city when she arrived. She hadn't realized until she arrived that the whole city was encircled by a wall – and you could stand on that wall and see all the important buildings. She knew the mural had to include the wall, and hence the tower on the left was born. That feature sets it apart a bit from the other murals.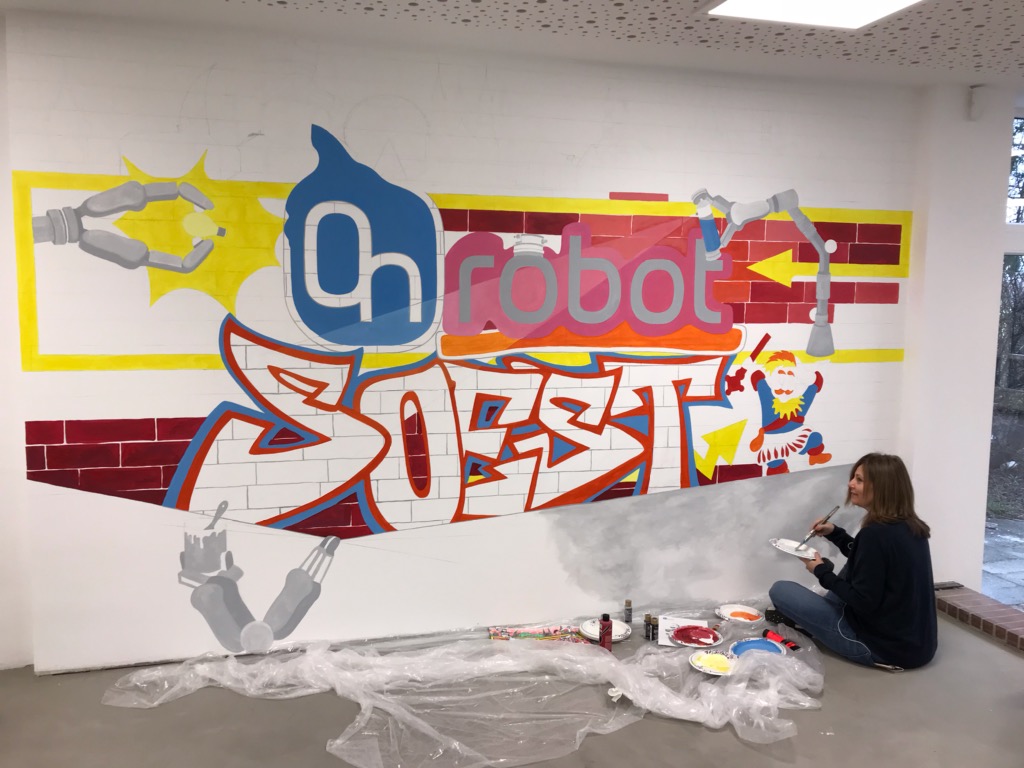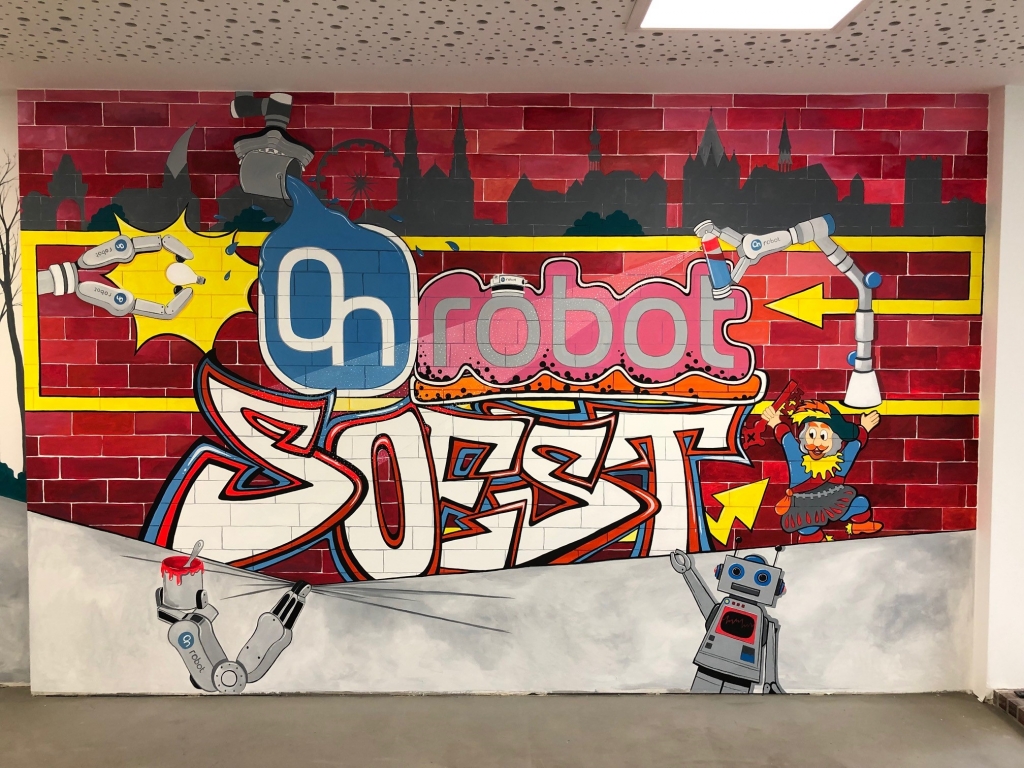 More recently, she's been in Singapore, painting the wall there. Singapore has a well-known skyline with features like the Marina Bay Sands that everyone recognizes. Karen said every single one of her friends offered to come along as her assistant, but she paints alone and it only takes her a few days, so she's fast as well. She ships her paints (which are acrylics) and brushes and a level and drop cloths ahead. Everything she needs is in that box, except for a ladder, which each office provides on site. 
And now the Singapore wall is done too – and you never know where you'll find her next, painting skylines and robots for another OnRobot office. We heard rumors that she's in Warsaw with her brushes in hand right now!

How to Grow your Business with Collaborative Applications

With the dawn of smarter, more adaptive tooling, robots can now function with greater speed, strength, safety and precision, accomplishing a wide range of tasks, while maximizing ROI. Learn more on how you can enable faster production at lower costs by downloading our free eBook.