Why SME manufacturers are left out of the 4th industrial revolution - but might soon be catching up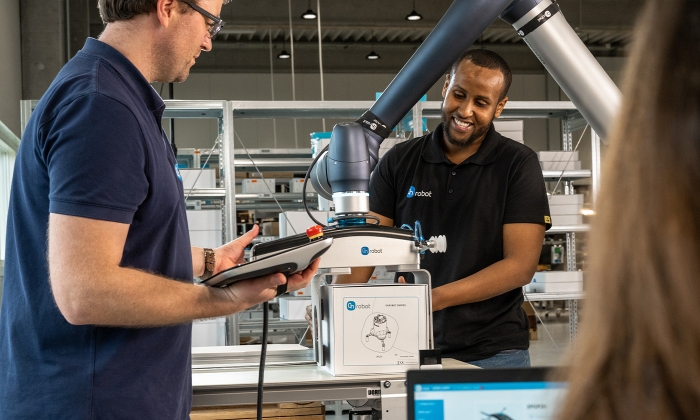 Despite the proven benefits of industrial robotic automation, robotic applications remain an untapped potential for most SME manufacturers. Learn why – and why it might be about to change.
Small and mid-sized manufacturers represent 97-99 % of all manufacturing businesses worldwide, yet account for only a fraction of robotic investments (1).
While industrial robots have allowed large manufacturers to obtain higher productivity and large cost savings, the so-called 4th industrial revolution has yet to trickle down to smaller manufacturers with less than 500 employees, and the production gap between large and SME manufacturers is widening according to a study from MIT.
In this article, we will explore the three main reasons why – and the solution that could help SMEs catch up quick.
"Easier deployment" is still pretty hard
A Vietnamese study has shown that SME manufacturers who see Industry 4.0 technologies such as robotic automation as easy to use are more likely to adopt those technologies (2).
But how easy is the implementation of industrial robotic automation really?
While traditional industrial robots enabled large manufacturers with low-mix/high-volume productions to automate production lines and up productivity, this type of robotic automation requires expert programming skills and the implementation can take several months.
When collaborative robots (cobots) were added to the mix with their intuitive user interfaces and focus on ease of use, programming and implementing robotic automation became easier and more accessible to non-experts.
The magic word is 'easier' – a relative term, and nowhere near 'easy'.
Implementing entire collaborative robotic applications still requires specialist programming skills as the robot arm is only one automation element out of many - from grippers, to sensors and cameras to machines and conveyor belts - that must be programmed separately and integrated to collaborate smoothly in an automated production line.
Not a problem if you are Volkswagen or Toyota. But if you are a midsized auto-parts supplier in Ho Chi Minh City or Ohio who mainly employs low-skilled workers, the implementation process may seem daunting.
Industrial robotic automation lacks flexibility
Traditional industrial robots as well as collaborative robots are developed for repetitive, high-precision and/or heavy tasks.
However, most SME manufacturers are high-mix, low-volume manufacturers. This means that their production and the items on the production line vary unpredictably from one order to the next – sometimes several times per day.
Redeploying a robot – be it collaborative or traditional – for new applications is time-consuming and requires system integration skills that are not readily accessible to most small and mid-sized manufacturers.
This has made robotic automation investments financially unviable for SMEs in the past.
Operational costs are still too high
The total cost of ownership (TCO) of an industrial robotic application is dominated by operational costs such as the training of employees and external integrators.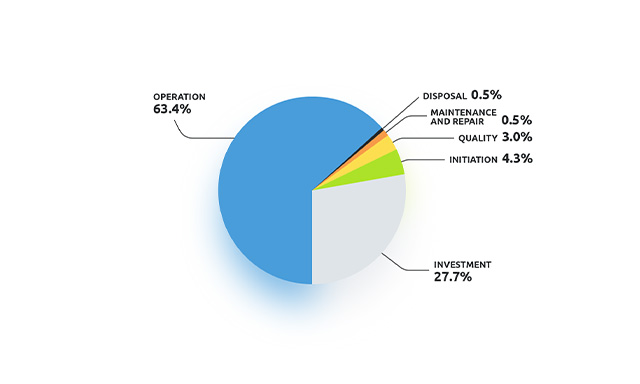 With the variety in applications required of industrial robotic automation in small and mid-sized manufacturing, manufacturers would either have to provide extensive upskilling and training of their staff or hire external specialists, who are typically in high demand, on a monthly, weekly or even daily basis.
Why SMEs may soon be cashing in on robotic automation too
What SME manufacturers need is a robotic automation system that is "easily adaptable to changes in products or processes without the need to rely on extensively trained employees" (2) – a deployment platform that will give smaller manufacturers a faster return on their robotics investment without the need for highly skilled personnel or on-going external help.
At OnRobot, we have just developed such a platform, called D:PLOY. D:PLOY provides one automated interface for the implementation of the entire robotic application, including the robot arm, grippers, sensors, machinery, etc., and requires zero programming and zero simulations, enabling small and mid-sized manufacturers to finally reap the benefits of robotic automation.
According to our tests, D:PLOY cuts down deployment and re-deployment time with up to 90 % compared to conventional robotic automation solutions. A complete application can be ready in a matter of hours, which means greater flexibility and faster return on investment.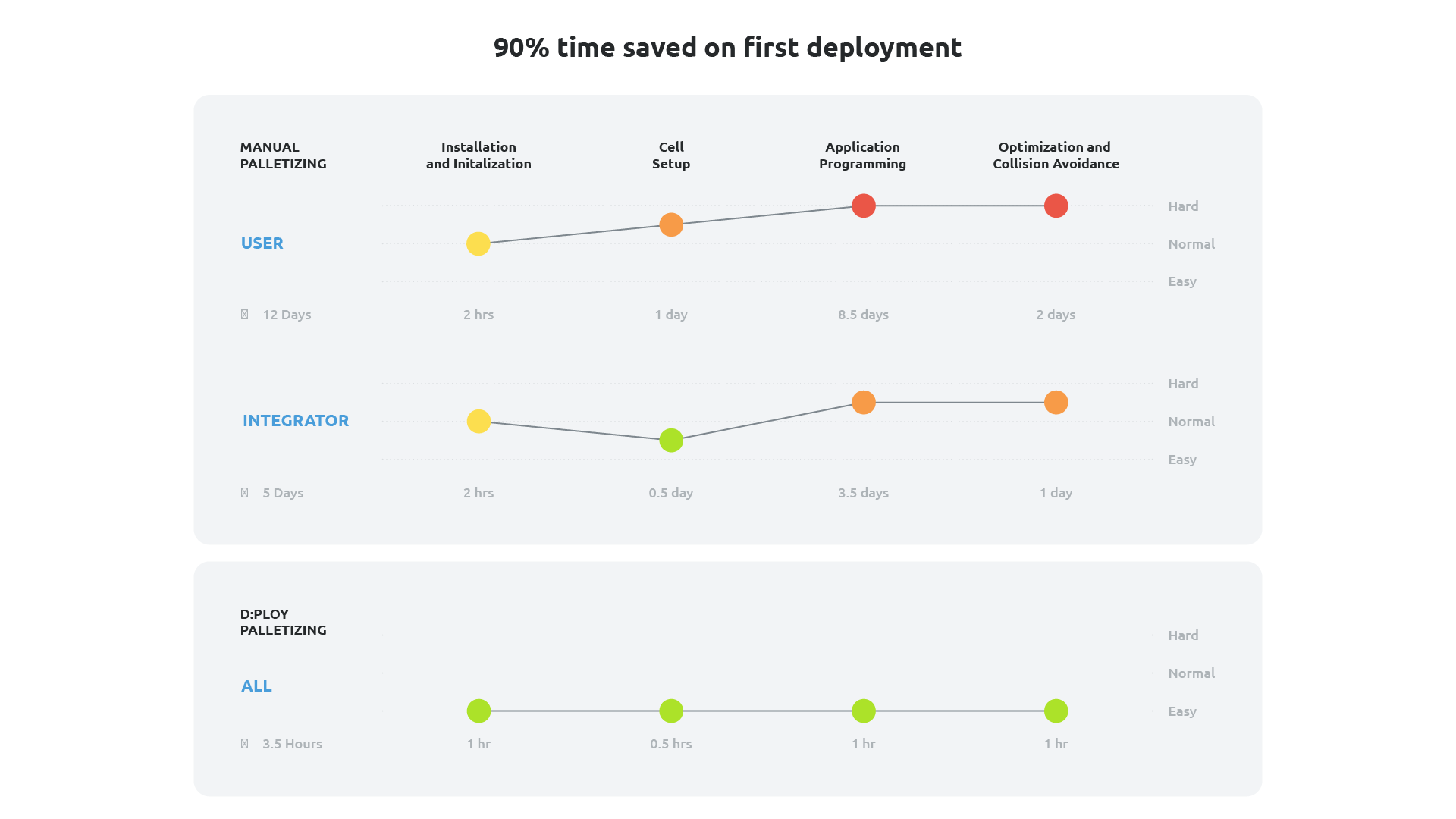 Learn how D:PLOY can help SMEs reap the benefits of robotic automation: https://onrobot.com/en/solutions/dploy
Sources:
(1) Berger, Suzanne, and Benjamin Armstrong. 2022. The Puzzle of the Missing Robots. MIT Case Studies in Social and Ethical Responsibilities of Computing, no. Winter 2022 (January). https://mit-serc.pubpub.org/pub/puzzle-of-missing-robots/release/1
(2) Nguyen, Xuan Truong and Quang Khai Luu: Factors Affecting Adoption of Industry 4.0 by Small- and Medium-Sized Enterprises: A Case in Ho Chi Minh City, Vietnam. Journal of Asian Finance, Economics and Business Vol 7 No 6 (2020) 255 – 264. https://koreascience.kr/article/JAKO202017764018131.pdf
(3) Perzylo, Alexander et al.: SMErobotics: Smart Robots for Flexible Manufacturing
March 2019, IEEE Robotics & Automation Magazine 26(1):78-90
https://www.researchgate.net/publication/330154680_SMErobotics_Smart_Robots_for_Flexible_Manufacturing

How to Grow your Business with Collaborative Applications

With the dawn of smarter, more adaptive tooling, robots can now function with greater speed, strength, safety and precision, accomplishing a wide range of tasks, while maximizing ROI. Learn more on how you can enable faster production at lower costs by downloading our free eBook.