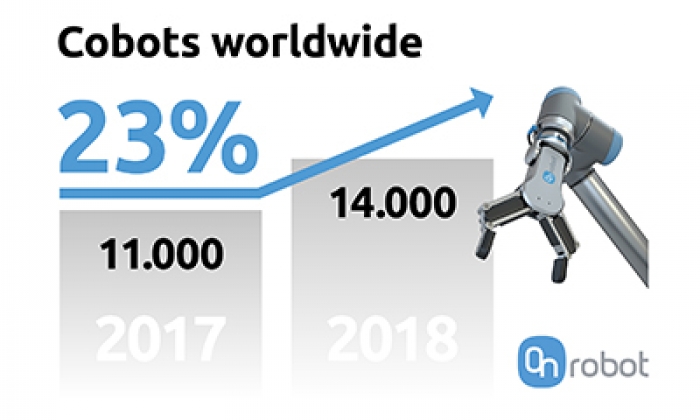 New Record Sales of Collaborative Robots Reveal Increasing Demand for End-Of-Arm-Tooling
With a growth of 23 percent in annual installations of collaborative robots (cobots) from 2017 to 2018, the new World Robotics Report, published by International Federation of Robotics shows a huge demand for end-of-arm-tooling, (EoAT). In 2018 almost 14,000 new cobot arms were installed. If this rise continues, that number will double in approximately three years, prompting an unprecedented EoAT market opportunity that OnRobot is ready to address.
For the first time ever, the annual World Robotics report includes a specific analysis on the market for cobots, documenting a robust 23 percent growth worldwide. The International Federation of Robotics' report indicates that a substantial part of the adoption will be driven by more intelligent components such as smart grippers, "plug & play" interfaces, and programming by demonstrations.
CEO of OnRobot, Enrico Krog Iversen, welcomes the report, emphasizing how these trends align closely with OnRobot's value proposition: "The significant growth of cobot installations shows that our new One-System Solution that provides a unified mechanical and electrical interface between any OnRobot EoAT and a full range of cobots and light industrial robots is right on track," he says.
"This new platform helps small and mid-sized manufacturers optimize their processes with greater flexibility, higher output, and improved quality. We have only seen the beginning of amazing growth in the cobot area, alongside with the current rise of industrial robots," says the OnRobot CEO. He is an experienced investor, who has an impressive history of predicting the robotics needs of the industry.
"In this growing market, OnRobot is poised to become the world's leading EoAT manufacturer," says Iversen. "The target is to extend our number of products from 10 to 50 next year alone. With a single robotic system, a single platform for programming and training, and single vendor relationship, manufacturers now have access to a full range of tools, full robot compatibility, and virtually unlimited possibilities for collaborative applications.
Download infographic about the rise here.
Download images, video, infographic and product brochure here.
About OnRobot
Established in 2015, the company merged with Perception Robotics and OptoForce in 2018, followed by an acquisition of Purple Robotics a few months later. In April 2019, OnRobot acquired the intellectual property of Blue Workforce, a Danish company making grippers and a vision system. Now, the OnRobot product range features a wide assortment of end-of-arm tooling, including: electric grippers, force/torque sensors, a vacuum gripper, the award-winning Gecko Gripper, and tool changers. This new combination of offerings from OnRobot makes it quicker and simpler to automate tasks such as packaging, quality control, materials handling, machine tending, packaging, assembly, and surface finishing. The company plans to grow through further acquisitions in the coming years. Headquartered in Odense, Denmark, OnRobot also has offices in Dallas, Soest (Germany), Barcelona, Warsaw, Shanghai, Tokyo, Seoul, Singapore and Budapest. For more information, visit www.onrobot.com.