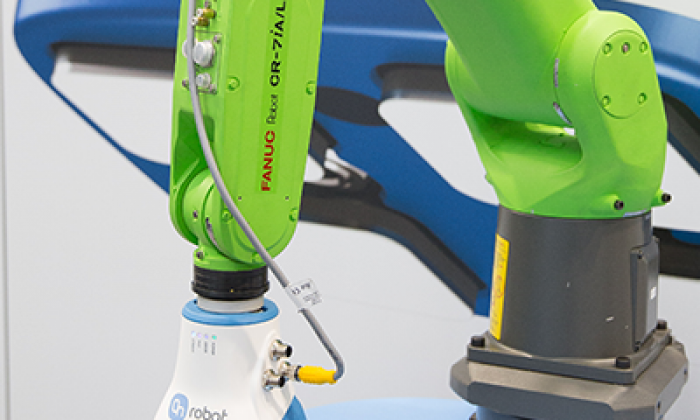 OnRobot, a global leader in end-of-arm tooling for collaborative robots, celebrates a third coveted win as the company's lizard inspired Gecko Gripper was recently inducted in to the 2019 class of NED Innovation Award winners. This achievement comes off back-to-back wins at the Edison Awards (awarded Silver) in New York and Hannover Messe in Germany, where the Gecko Gripper took home the Robotics Award!
The Gecko Gripper was developed as a NASA replacement for Velcro, and a Jet Propulsion Laboratory engineer figured out how to use the van der Waals force to create a non-adhesive, super "sticky" gripper. Inspired by nature and the feet of a gecko, it employs an adhesive system with millions of fine fibers that adhere to the surface of the workpiece. In contrast to vacuum grippers, the Gecko Gripper can also handle perforated or porous workpieces, such as printed circuit boards, without any problems.
The NED Innovation Awards – an annual contest that seeks out innovation at its finest and selects technology and innovations that fundamentally change their markets – winners truly redefine their markets for a smarter, more efficient manufacturing world.
Here's the award page for the Gecko:
https://www.newequipment.com/industry-trends/innovation-its-finest-ned-award-winners/gallery?slide=5
About OnRobot
Founded in 2015, OnRobot merged with Perception Robotics and OptoForce in 2018 and also acquired Purple Robotics in the autumn of 2018. In April 2019, Blue Workforce's rights were also acquired along with 12 developers. OnRobot's product range includes a wide range of robotic equipment such as electric grippers, force and torque sensors, vacuum grippers and tool changers. The new product mix from OnRobot makes it quick and easy to automate tasks such as packaging, quality control, material handling, machine operation, assembly, and surface finishing. The head office is in Odense, Denmark, and OnRobot also has branches in Hungary, Germany, Poland, Spain, USA, China, and Singapore. The company plans to expand further through acquisitions in the coming years.