What to consider when automating CNC Machine Tending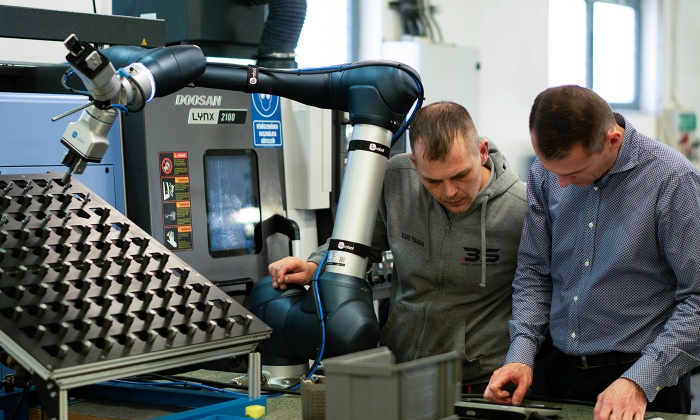 If you are considering automating CNC machine tending, you already know that loading and unloading a machine is hardly the best use of your operators' time. This article teaches you how to successfully deploy a robotic CNC machine tending application.
CNC machine tending is a repetitive, time-consuming task that is perfectly suited for robotic automation. But many manufacturers underestimate the complexity of deploying a real CNC machine tending application and risk ending up with a robotic investment that is never implemented.
The part that requires more expertise and time than most people realize is pairing the robot hardware with the CNC machine and optimizing the CNC machine tending application to run smoothly with the greatest possible output.
With conventional programming, the first deployment of a robotic CNC machine tending application can take an experienced programmer up to a week and up to two days for redeployment, e.g., when introducing new workpieces.
In this article you will learn: 
What to consider before investing in robotic CNC machines tending automation.

How to choose the right CNC machine tending automation solution for your needs.

How to deploy your robotic CNC machine tending application 80 % faster with zero programming experience.
1. What to consider before investing in robotic automation of CNC machine tending
Is robotic automation of CNC machine tending relevant in your factory?
You can automate CNC machine tending at any time, but robotic automation is particularly relevant when:
You are investing in new CNC machines.

Your CNC machines are not running to their full capacity.

You wish to adapt more easily to fluctuating demand.

You are struggling to hire enough qualified CNC machine operators.

You need to save on labor costs to stay competitive.
Will robotic automation provide the production flexibility you need?
Human workers can handle an almost infinite variety of shapes, sizes and weights when loading and unloading the CNC machine.
Robotic hardware and programming can only adapt to different workpieces up to a point. The robotic application makes up for this in speed, consistency and accuracy and the fact that robotic automation can enable you to run lights-out operation.
However, if you manufacture small batches in a low-volume, high-mix production, you need to consider whether you can redeploy the robotic application for new workpieces fast enough to ensure the necessary production output.
What is your ROI if you need to keep paying an integrator to redeploy the application?
When calculating the ROI of your robotic investment, consider the need for and cost of redeployment.
For small and medium-sized manufacturers with high-mix, low-volume production, the long-term cost of hiring reprogramming help can quickly eat away at the financial benefits of robotic CNC machine tending applications.
How might I adapt this application to future production needs? 
When automating your manufacturing process, it is vital that you invest in robotic automation which can easily be adapted to the manufacturing needs of tomorrow.
The easier it is to redeploy the robotic CNC machine tending application or switch to a different robot brand or type, the easier it is to adapt the production to future production needs.
Will the reduction in labor costs measure up to the investment in a robotic application? 
If you manufacture bespoke parts, highly complex parts or very small batches, a robotic application is rarely worth the investment as you will spend too much time redeploying the application for each new item.
How can your CNC machine operators be used for more value-adding tasks? 
With robotic applications taking over the time-consuming, repetitive CNC machine tending tasks, your operators are free to carry out more value-adding tasks such as reconfiguring robots for different applications. However, with conventional robotic programming this may require substantial training of your workers.
2. How to choose the right CNC machine tending automation solution for your needs
Choose the right robot arm for CNC machine tending applications. 
When choosing the robot arm for your CNC machine tending application, the three main parameters to consider are:
Speed
To optimize production, you need to reduce the robot's idle time as much as possible. The shorter the machining cycle, the faster the robot.
Note that, regardless of the top speed of your chosen robot arm, the safe production speed will be determined by your risk assessment.
Payload
When calculating the payload the robot will carry, add the weight of the components attached to the robot and note that the payload varies depending on its reach.
Reach
Obviously, the robot arm should be able to reach the CNC machine positions necessary for the application. As most CNC machines are made with human operators in mind, six-axis robot arms are often used for these applications as their multiple joints allow for the most human-like range of movement.
Choose the right end-of-arm tools for your application. 
The size, shape, and weight of the workpieces before and after they are loaded into the CNC machine determines the type of end effector you need.
See which grippers we recommend for CNC machine tending here. 
Consider your integration options. 
As there is no common programming standard for CNC machines and robots, setting up the communication between CNC machines and robot requires expert programming skills that may be particular to that combination of brands.
You can either invest in programming training for your staff or hire an integrator. Either way, you may find yourself stuck with the combination of CNC machine and robot brand for the foreseeable future.
Or you could use D:PLOY and eliminate the need for programming altogether.
3. Deploy your CNC machine tending application 80 % faster with D:PLOY CNC
At OnRobot, we have made it 80 % faster for people with no programming experience to deploy and redeploy CNC machine tending applications with the robotic automation platform D:PLOY CNC.
With D:PLOY, you can carry out the initial deployment of the CNC machine tending application in less than a day. The automation platform has an intuitive, app-like interface and does not require any programming experience, so very little training from your operators is needed.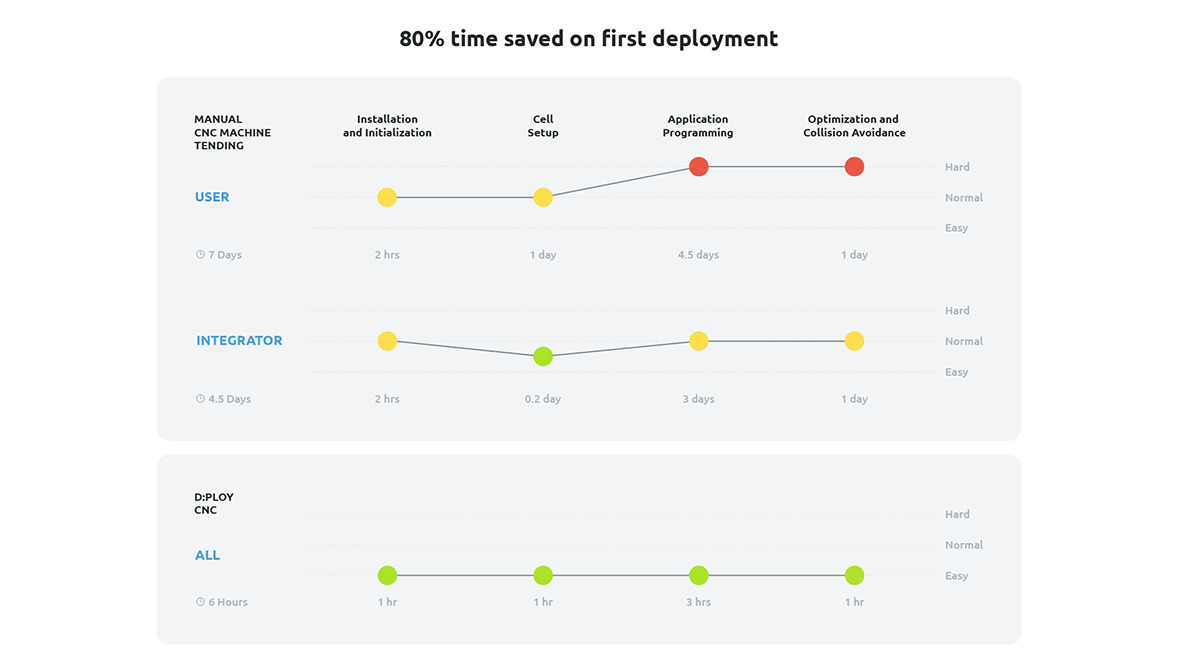 Redeploying a robotic CNC machine tending application for new production items, positions or locations takes only three hours. It is so quick even very small production batches can justify the investment in robotic automation of your CNC machine tending processes.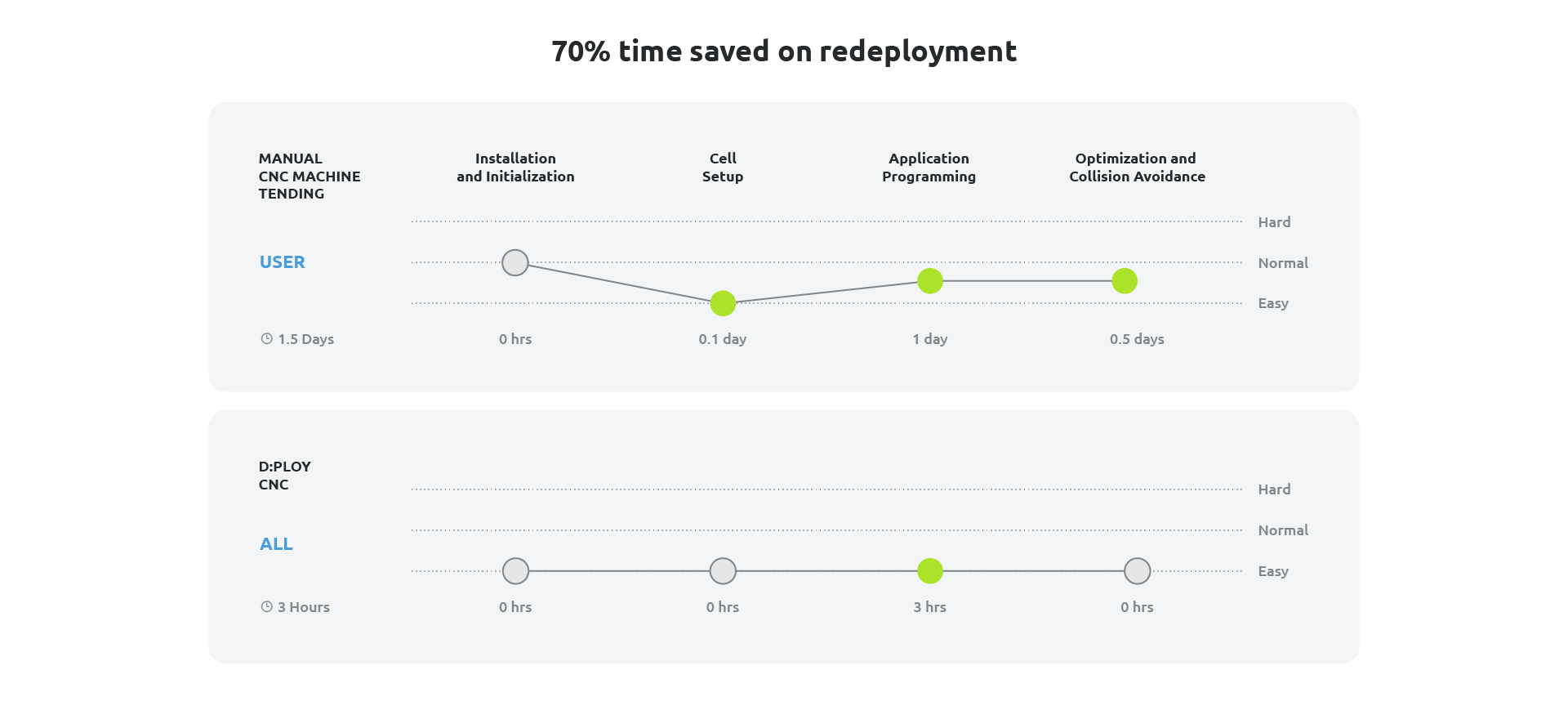 With D:PLOY, you can easily pair the most leading collaborative or light industrial robot arms and any CNC milling or lathe machine and deploy your robotic CNC machine tending application in just a few hours. This way you maintain control of the decision of which brands to use on your production line.
Learn more about deploying your CNC machine tending application with D:PLOY

How to Grow your Business with Collaborative Applications

With the dawn of smarter, more adaptive tooling, robots can now function with greater speed, strength, safety and precision, accomplishing a wide range of tasks, while maximizing ROI. Learn more on how you can enable faster production at lower costs by downloading our free eBook.