Faster Deployment of Robotic End of Arm Tools with Quick Changer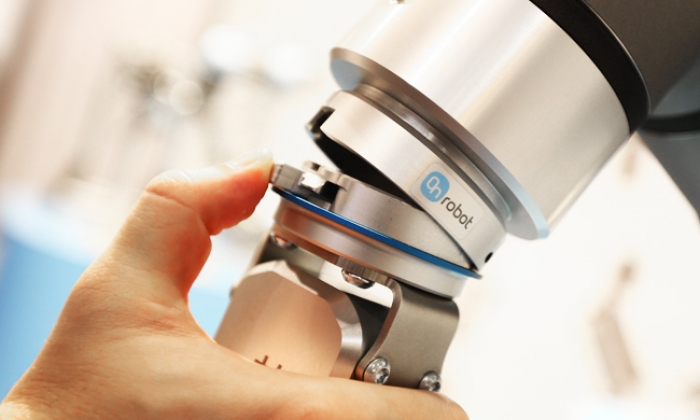 The manufacturing industry faces several challenges in today's global, technologically advanced economy.
Competing with the lower cost of overseas goods, rapid technological change, supply shortages, distribution problems as fuel prices increase. The list goes on.
Automation is obviously a major solution to help save time and lower costs. But to maximise savings and optimise efficiency, the right kind of automation is needed. Going out and buying a set of robotic arms and tools, without considering your workflow and how your processes fit together can be a costly mistake.
So, what is one of the best ways to optimise speed of production and save money?
At OnRobot, we're confident that the answer lies in our innovative Quick Changer EoAT (End of Arm Tool), when used with a variety of collaborative robot applications.
Introducing the Quick Changer
The Quick Changer is a physical interface between the robotic arm and the EoAT, that allows for easy and fast tool changing. The operator can deploy and re-deploy tools in a matter of seconds, without having to screw or unscrew the tool from the arm.
Depending on the number of tool changes required during a work cycle and the number of robotic arms in operation, this can save dozens or even hundreds of hours per week.
The Quick Changer has many benefits for the user:
Strong and hardwearing, handling up to 20kg

Save time with the easy-to-use locking mechanism – tools simply click into place

Minimal extra strain on the robotic arm – lightweight and minimal height

Safe and user-friendly – the locking springs fully secure the tool and there are no sharp edges

High repeatability – the fittings are robust and will last for many thousands of tool changes

Reliable and patented design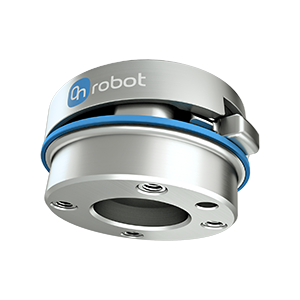 The Quick Changer is designed to be used with a variety of robotic arms, making it the perfect addition to any collaborative (or cobot) system.
The entire range of OnRobot EoAT tools can be used with the Quick Changer, including surface finishers, picking and placing, packaging and palletizing, machine tending, assembly, and testing and inspection.
The Quick Changer is a versatile and tough piece of equipment that will make life easier for operators, save time on the shop-floor and cut costs overall.
Who Will Benefit the Most from Quick Changer?
Any manufacturing company, small or large, that uses multiple tools within a single automated work cycle will benefit from Quick Changer. How much they benefit will depend on the scale of their operation, the time saved per cycle, and the increase in productivity.
Small to medium enterprises (SMEs) will probably see the most dramatic savings, especially those that have a "high mix – low volume" work cycle or production line. The reason is obvious – if you are using several different tools on one or two robotic arms, the time taken to frequently change tools soon adds up. This can be significantly reduced by fitting a Quick Changer, and ROI should be achieved very quickly.
Dual Setup for Even Greater Speed & Efficiency
The Dual Quick Changer doubles the speed and efficiency of your robot or cobot. By combining two grippers (two RG2 grippers or an RG6 with a VG10), two products can be held and moved at the same time. Therefore, the cycle-time is effectively halved, and you get twice the productivity with no extra effort.
For this reason, the Dual Quick Changer will pay for itself very quickly – ROI can be achieved within just 3 months depending on frequency of operations.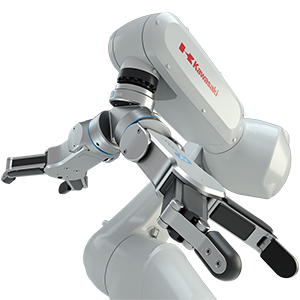 Summary
By increasing the efficiency of your automated manufacturing processes with the Quick Changer or the Dual Quick Changer, you are maximizing the utilization of each robot. Operators can switch between tools quickly and seamlessly, with minimal machine downtime.
At OnRobot, we design our end of arm tools to be smart, robust and easy-to-integrate. The Quick Changer ticks all these boxes and will save you time and money in the process. 
To find out more about the Quick Changer or any of our other EoAT solutions, contact us today by clicking here.

How to Grow your Business with Collaborative Applications

With the dawn of smarter, more adaptive tooling, robots can now function with greater speed, strength, safety and precision, accomplishing a wide range of tasks, while maximizing ROI. Learn more on how you can enable faster production at lower costs by downloading our free eBook.