Unlock your factory's hidden potential with Production Monitoring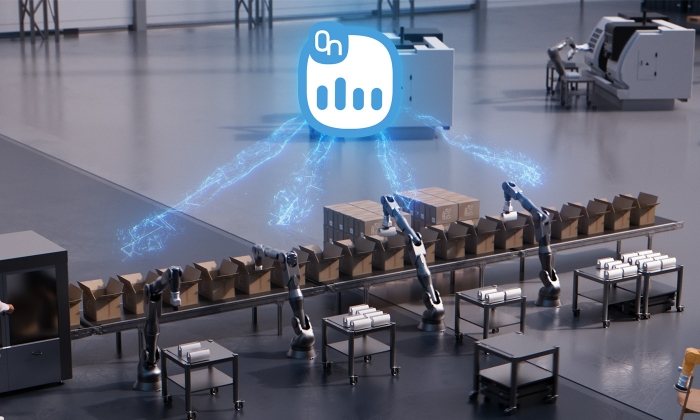 WebLytics is a powerful production monitoring, device diagnostics, and data analytics software solution that can turn your collaborative automation cell into a smart factory.
Specially designed for use on collaborative applications, and ideally suited to deployments in small shops and factories, WebLytics enables you to make smart, data-driven decisions both on the factory floor and for your business.
And, as an easy gateway to digitalization, WebLytics empowers small and medium-sized enterprises (SMEs) to introduce smart factory technology without all the costs and complexity that have traditionally applied. 
In this post, we'll highlight some of WebLytics' unique production monitoring features and benefits and show why we think this software is such a perfect match for SME's production monitoring requirements.
But first, for those new to the idea of production monitoring, let's quickly explore some basic concepts.
Your robot cell contains a multitude of data. Gathered from the tip of your end-of-arm tooling to the base of your collaborative robot arm, this information can be used to make data-driven decisions that boost productivity, slash downtime, and quickly resolve bottlenecks. 
Unfortunately, most of that data is hidden. That means there's a hidden smart factory in your collaborative automation cell that you're not using. That means hidden production potential. And that's a problem.
Production monitoring software shines a light on this hidden factory for you.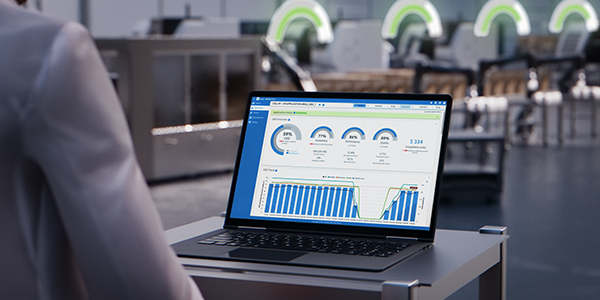 What is production monitoring software?
Production monitoring software gathers data from your production line equipment, including your automation, and converts it into a format that can be used to make fast and informed decisions.
Using globally recognized industry KPIs such as Overall Equipment Effectiveness (OEE), for example, production monitoring software can be a powerful tool for boosting productivity and cutting downtime. It also eliminates manual data collection, which can be intermittent and unreliable.
Production monitoring is an important element of the digitalization wave that's sweeping the manufacturing sector. However, despite massive interest in digitalization among SMEs, traditional production monitoring software solutions have proven too costly and complicated to be feasible.
While traditional solutions provide reams of granular technical information, this much complexity is overkill for SMEs that want application-focused solutions that are as straightforward to deploy and use as their collaborative automation. Additionally, traditional monitoring systems tend to focus exclusively on robot health and performance. For a more complete view of how your entire application is performing, it's necessary to include data from your tooling and end-effectors too.
Meanwhile, enterprise wide IoT solutions have proven difficult to integrate, particularly for SMEs. These solutions provide many layers of functionality, these software solutions are too far removed from the application-focused challenges faced by SMEs.
It's no wonder SMEs have been digitalization hesitant.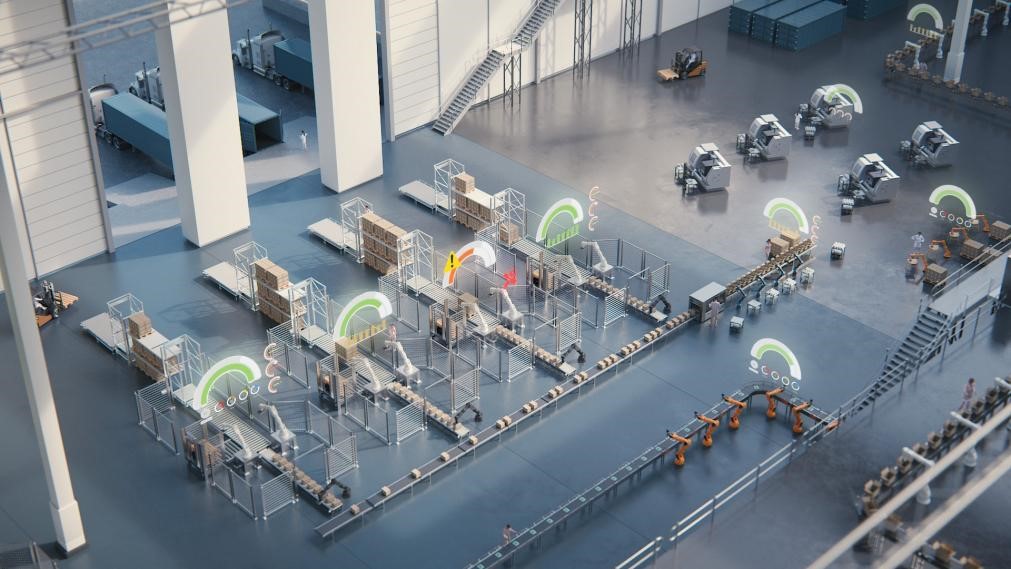 What is production monitoring in the Collaborative Era?
A much better fit for SMEs, production monitoring for collaborative automation is designed to work with your collaborative robots, tools, and other accessories. While these offer some useful insight into the performance of your cell, most production monitoring solutions for collaborative automation tend to focus on limited parts of your application, such as the robot arm alone, or just the end-effector. Additionally, few provide OEE-level insights.
SMEs are application focused. Production monitoring software should be application focused too. The perfect fit for SMEs therefore, is production monitoring software that's not only designed for use with collaborative automation but is also focused on the application.
WebLytics is the pioneering, standout example of this new breed of specialist production monitoring software. It's easy to use, provides seamless compatibility with your robots and tooling, and it provides transparent, real-time insight into how your collaborative automation is performing on the application level. It provides you with those all-important OEE insights.
What makes WebLytics unique?
WebLytics is the only OEE-focused production monitoring software specially designed for collaborative applications. Seamlessly integrated with all leading collaborative and light industrial robot brands and with the entire OnRobot ecosystem of tools and components, WebLytics also provides the broadest compatibility of any collaborative application monitoring system available on the market today.
One of the main attractions of our off-the-shelf collaborative application solutions is that they address specific application requirements. We designed WebLytics with the same laser focus on your immediate automation demands.
How does WebLytics work?
WebLytics gathers raw, real-time equipment data from your robots and tools such as grippers, vision cameras and processing tools such as sanders and screwdrivers. It then transforms all these data points into easy-to-understand, visualized device and application-level intelligence. You can access WebLytics on any device through its secure, intuitive browser-based user interface. There, OEE measures and user-defined KPIs are displayed through attractive, easy to read dashboards that provide an immediate and transparent view into the real-time and historical performance of your collaborative automation. If you're interested in using KPIs other than OEE, WebLytics allows you to quickly create customized dashboards that reflect the application performance features that matter most to you.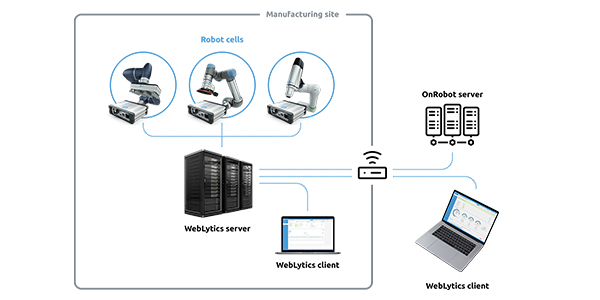 Painless production monitoring for SMEs
Need to find out how many grip cycles have been performed or how many safety stops have been initiated during an application? Is your application running at optimal speed? WebLytics provides that information, and much more. 
Overall equipment effectiveness (OEE) is the universal best practice used to monitor and improve the effectiveness of production processes. OEE measures the percentage of manufacturing time that is truly productive – a score of 100% indicates that the collaborative application is producing only good parts, as fast as possible, and with no downtime.
WebLytics provides the OEE insights you need to track key performance indicators (KPIs) enabling you to truly understand and optimize your collaborative cell's performance over time. Deployable on multiple collaborative cells, WebLytics enables easy upscaling as your fleet of robots grows.   Over time, the data that WebLytics collects provides insights that can inform business decisions around product pricing, growth opportunities, new business initiatives, and more.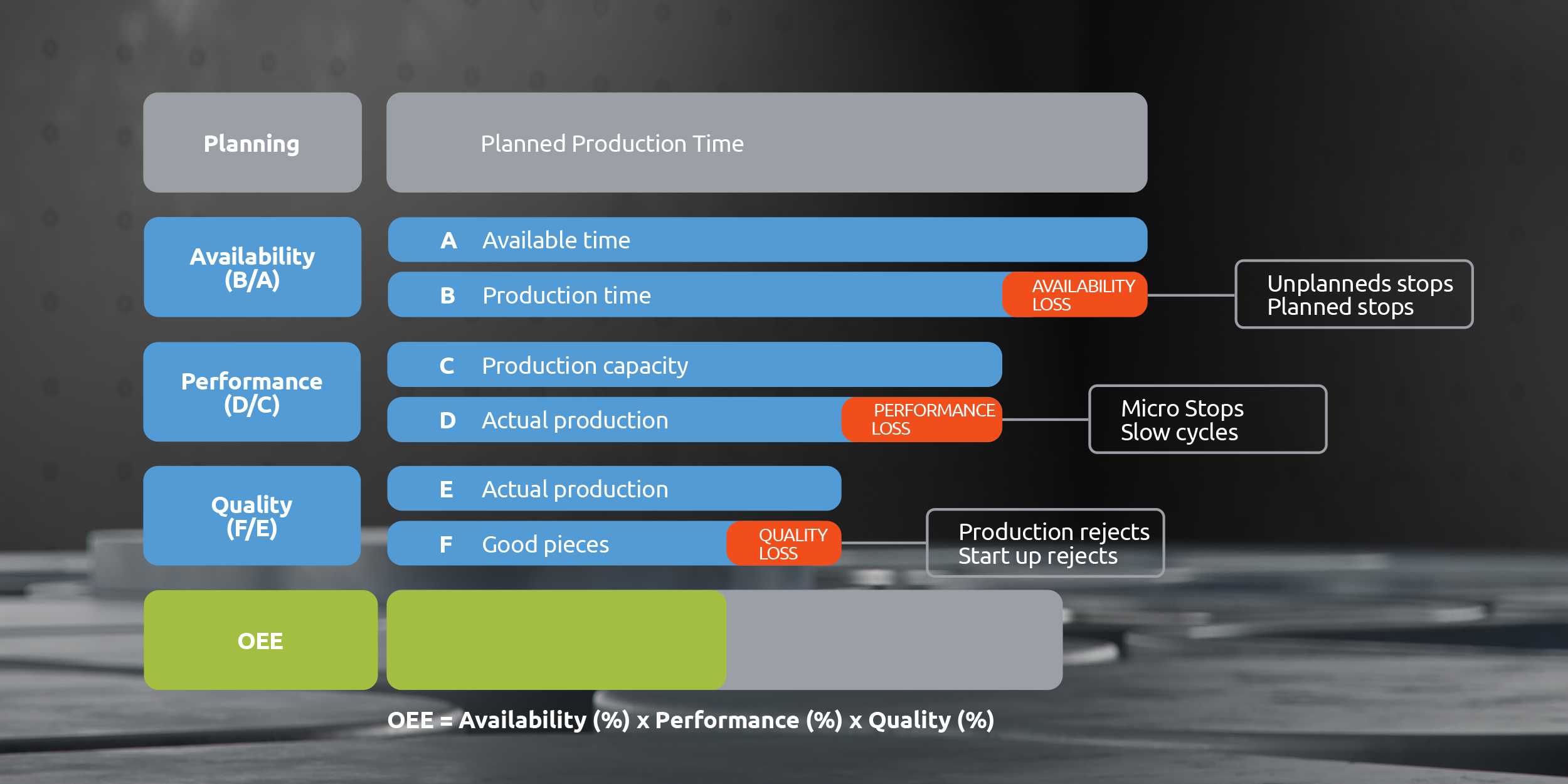 WebLytics identifies trends in real-time in the robot cell, including patterns, peaks, and disturbances in application productivity. This allows you to identify problems that negatively impact productivity, empowering continuous process improvements and higher productivity.
WebLytics can also send immediate alerts if there's an issue. It also lets you track and plan maintenance for robotic equipment so you can keep your factory running.
WebLytics' application view provides real-time information about application health, and the health of all the devices used in your deployment. Here, you have easy access to application OEE, including the number of completed cycles, and measures of your automation's availability, its performance, and the quality of its work.
Plus, by enabling you to easily compare performance at different points in time, WebLytics makes it easy to compare performance whenever changes are made to a robot cell, such as adjusting the speed of a robot or the settings on a gripper.
WebLytics powerful features and high usability are a natural progression of our core mission at OnRobot to level the playing field between smaller companies and the giants of the industry. We helped to democratize robotics, after all. Why not democratize digitalization and production monitoring too?
Talk to one of our experts about how WebLytics can boost your productivity and slash downtime today here. 

Unlock your Factory's Hidden Potential

Production monitoring lets you use relevant, reliable data to make informed decisions on your manufacturing floor and business overall. Download our guide and unlock your factory's hidden potential.