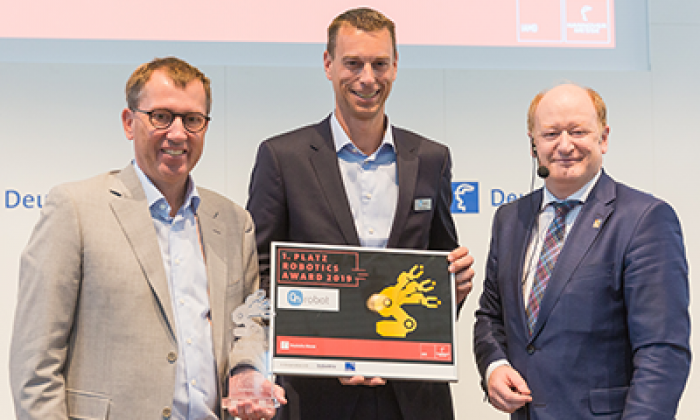 April 2, 2019 - HANNOVER, GERMANY – Hannover Messe gave the ROBOTICS AWARD for the 9th year in a row. The nominees were forwardttc (in cooperation with KUKA) for their low-cost charging assistant for electrical vehicles, the MASKOR Institute at Aachen University for an autonomous field robot and OnRobot A/S for their Gecko Gripper, with gripping ability inspired by nature. The Gecko Gripper won the prestigious award
In a ceremony at HANNOVER MESSE, Bernd Althusmann, Minister for Economic Affairs, Labor and Transport for Lower Saxony presented the award to OnRobot's Gecko Gripper. Forwardttc (in cooperation with KUKA) came in second, with MASKOR Institute in third place.
The Gecko Gripper's technology was originally invented the NASA's JPL labs as a tool for collecting defunc satellites and other space track, as well as applications on the International Space Station. From these lofty beginnings, the Gecko Gripper serves more earth-bound purposes, for pick and place and packaging applications. The technology is inspired by gecko lizards and uses the same van der Waals forces a gecko uses to scamper up a wall. Unlike a vacuum gripper, it doesn't require any air compressor, nor does it leave any marks on the items it picks up.
The ROBOTICS AWARD singles out ground-breaking innovations and is a major highlight of the HANNOVER MESSE. The award was presented for the 9th time by HANNOVER MESSE, together with the Robotation Academy and the trade journal Industrieanzeiger.
About OnRobot
Established in 2015, OnRobot merged with Perception Robotics and OptoForce in 2018, followed by a recent acquisition of Purple Robotics. The OnRobot product range features a wide assortment of robot equipment, including: electric grippers, force/torque sensors, gecko grippers, and tool changers. This combination of offerings from OnRobot makes it quicker and simpler to automate tasks such as packaging, quality control, materials handling, machine operation, assembly, and welding. The company plans to grow through further acquisitions in the coming years. Headquartered in Odense, Denmark, OnRobot's North American office is located in Dallas, TX. The company also has offices in Germany, China, Malaysia, and Hungary. For more information, visit www.onrobot.com.