The new Gecko Single Pad gripper shows that the simplest ideas can have a huge impact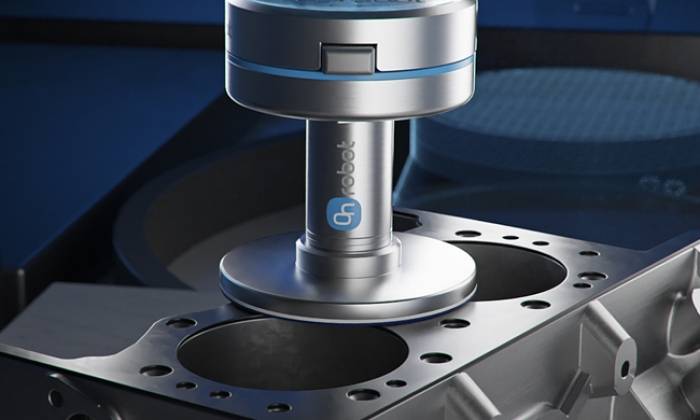 Some of our most exciting innovations are those that let customers automate processes that simply weren't possible before. And when we can expand those innovative ideas, making them even more accessible, simpler to use, and less expensive? Well, that's the icing on the cake.
That's the case with our newest product, the Gecko Single Pad (SP) gripper.
Our original Gecko gripper made waves throughout the industry, winning multiple awards for design, innovation, and industry impact. Named for the lizard whose feet it mimics, the Gecko gripper uses van der Waals forces that are generated by millions of fine fibers. The fibers create a non-adhesive, no-mark grip that adheres to object surfaces that are otherwise difficult or impossible for other types of grippers to handle.
The new Gecko SP is a smaller, lighter version of the original Gecko gripper. It comes with a slender, centered extender that allows the gripper to maneuver in and around tight spaces. Gripper pads are available for 1kg, 3kg, or 5kg payloads, so even though the Gecko SP is compact, it still has the power to handle a wide range of applications. The Gecko SP can be used with any collaborative or light industrial robot, from smaller tabletop versions to larger robots with longer reach.
Like the original, the Gecko SP gripper requires no air supply or electricity, so you simply plug it into the OnRobot Quick Changer and it's ready to go. Since the gripper uses the same simple adhesion as a lizard walking up a wall, there's no programming involved for most applications either. With no cables, tubes, or air supplies required, the Gecko SP stays compact and eliminates maintenance as well as ongoing costs.
The Gecko SP is ideal for many of the applications you've struggled to automate in the past. It easily handles perforated or porous objects, such as printed circuit boards or mesh, as well as objects with small surface areas that can't easily be picked up by other grippers.
One of the key benefits of the Gecko technology is its no-mark capabilities. Unlike vacuum grippers—or even human hands—that leave a mark that must be cleaned in a separate process step, the Gecko SP is ideal for handling glass or metal parts with no cleaning step required. Depending on the application and total number of process steps, automation tasks for solar panels, display glass, lenses, or decorative metal parts can see significant savings with the Gecko SP.
The gripper is seamlessly compatible with any major collaborative or light industrial robot arm through OnRobot's new award-winning One System Solution, the platform that provides a unified mechanical and electrical interface between the robot arms and any OnRobot EoAT.
If you've been searching for a cost-effective, true plug-and-play gripper for your most challenging applications, ask your automation supplier about the Gecko SP gripper. You'll get our award-winning Gecko technology in a compact, single-pad format that couldn't be simpler or more cost-effective to implement in nearly any application, from machine tending to packaging to assembly.

How to Grow your Business with Collaborative Applications

With the dawn of smarter, more adaptive tooling, robots can now function with greater speed, strength, safety and precision, accomplishing a wide range of tasks, while maximizing ROI. Learn more on how you can enable faster production at lower costs by downloading our free eBook.