Assembly
Many assembly operations require the robot to locate items and grip them precisely, often handling small parts of various shapes and sizes. Our range of grippers and sensors help you increase production speed and quality while lowering your costs. With easy redeployment, our collaborative applications are a real benefit for small -and medium sized businesses with a high mix/low volume production.

Using a full collaborative set up, you can have the robot and end-of-arm tooling work safely side by side with your workers. Having the robot installation take over repetitive, simple jobs frees your workers up for other tasks, which really helps your business in today's tight labor market.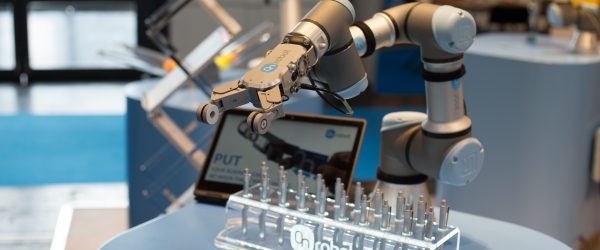 ALWAYS PRECISE, NEVER TIRED
The RG2-FT can accurately and efficiently perform your assembly tasks, even after your human workers head home. Flexible and precise, it can handle parts of different sizes.

How to Grow your Business with Collaborative Applications

With the dawn of smarter, more adaptive tooling, robots can now function with greater speed, strength, safety and precision, accomplishing a wide range of tasks, while maximizing ROI. Learn more on how you can enable faster production at lower costs by downloading our free eBook.