組み立て
たくさんの組み立て運用は、様々な形やサイズの小さな部品を取り扱い、正確に配置そして掴むロボットを必要としています。OnRobotの協働腕先ツールは生産を加速し、品質を向上させる一方で、費用削減にもつながります。また、簡単に再配置できることで、中小企業で、多品種少量生産による現実的な利益を生み出します。

完全な協働セットアップを使うと、ロボット、腕先ツールそして作業員が並んで作業ができます。ロボット インストレーションを活用することで、反復作業や単純作業をロボットに任せ、作業員に他のタスクを割り当てることが可能です。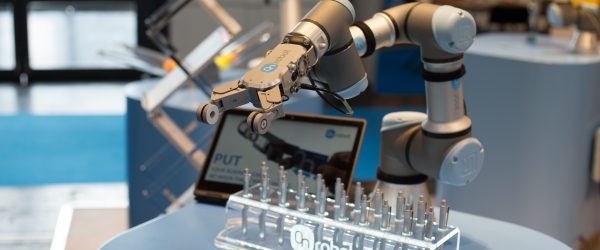 ALWAYS PRECISE, NEVER TIRED
The RG2-FT can accurately and efficiently perform your assembly tasks, even after your human workers head home. Flexible and precise, it can handle parts of different sizes.

How to Grow your Business with Collaborative Applications

With the dawn of smarter, more adaptive tooling, robots can now function with greater speed, strength, safety and precision, accomplishing a wide range of tasks, while maximizing ROI. Learn more on how you can enable faster production at lower costs by downloading our free eBook.