ピック&プレース
ピック&プレース行程の加速による生産性出力の増加は、運用においてOnRobotグリッパーを使う様々な利点の一つにしかすぎません。OnRobotグリッパー搭載の協働ロボットの採用は、長時間でも疲労せず精密性を保てる機能を有するも同然なのです。さらに、プログラム可能な力を持つOnRobotグリッパーは、壊れやすい部品でも取り扱いが可能です。

食品や医薬品産業では、ピック&プレース行程を自動化し、製品汚染のリスクを軽減しています。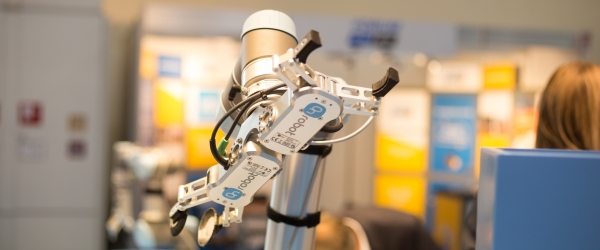 DOUBLE THE EFFICIENCY
Dual RG2 grippers with customizable fingertips make you twice as productive and help your robot achieve maximum efficiency.

How to Grow your Business with Collaborative Applications

With the dawn of smarter, more adaptive tooling, robots can now function with greater speed, strength, safety and precision, accomplishing a wide range of tasks, while maximizing ROI. Learn more on how you can enable faster production at lower costs by downloading our free eBook.