机床管理
机器操作可能十分乏味,又存在危险隐患,而且即使工作几个小时之后,还需要保持高度的一致性。自动化机器操作不仅能更好地确保员工的安全,还能够提高生产效率,而且,即使在操作人员离开车间后,仍然可以继续生产。借助于我们的双夹持器解决方案,您可以大幅缩减周期时间,因为这一产品能够同时处理 2 个物品并进行操作。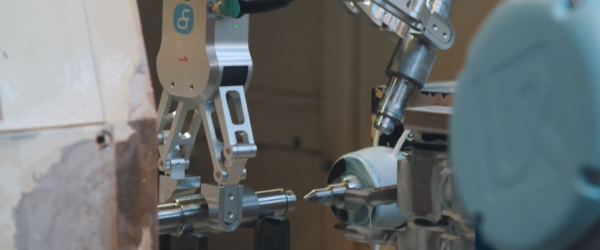 DUAL GRIPPER INCREASES PRODUCTIVITY
Osvald Jensen not only makes parts for our grippers, they use them themselves, dramatically increasing the efficiency and consistency of their CNC machines and freeing up their employees for other tasks.

How to Grow your Business with Collaborative Applications

With the dawn of smarter, more adaptive tooling, robots can now function with greater speed, strength, safety and precision, accomplishing a wide range of tasks, while maximizing ROI. Learn more on how you can enable faster production at lower costs by downloading our free eBook.