Five Biggest Challenges for SME's in 2022

Small-to-medium sized (SME) manufacturing companies are used to challenges; from competing with large, richly-resourced manufacturing businesses, to dealing with an automation playing field that has traditionally been stacked against them.
Some challenges have to be faced every year, such as the drive to improve productivity and maintain quality. Some are temporary, such as pandemic-related work from home directives and supply chain bottlenecks. 
2022 is unique in several respects. Many small-to-medium size manufacturing companies (SMEs) managed to avoid bankruptcy during the pandemic thanks to government intervention. As we enter the post-pandemic world, 2022 will see a global scaling down of these loan schemes, moratoria, grants, tax holidays and other forms of relief. SMEs can survive and thrive in 2022, but, only through adoption of best-fit automation and digitalization solutions designed to overcome the challenges ahead. 
Challenge #1 The Case of the Missing Workers
The labor crisis in manufacturing is a multi-faceted global problem that's impacting SMEs across all verticals. A 2021 report by Deloitte and the Manufacturing Institute found that 500,000 jobs remain unfilled in U.S. manufacturing alone. Manufacturers also reported that it is 36 percent harder to find talent today than it was in 2018. The authors estimate that 2.1 million manufacturing jobs could be left unfilled by 2030. This pattern is repeated globally from South-East Asia to the European Union. 
Demographics play a part too. Nearly a quarter of the US manufacturing workforce is 55 years old or older, for example. The age profile of manufacturing workers is on the rise globally and these workers are not being replaced fast enough. 
At the same time, many countries are experiencing worrying declines in their working age populations: Japan expects the country's workforce to drop 20% by 2040, while Polish officials estimate their total population will decrease by 10% and the number of people aged 15-64 will decline 28% by 2050.
Manufacturing workers of all ages want to work in modern, digital environments. A 2021 survey of frontline manufacturing workers in the United States, Germany, France, Spain and the United Kingdom revealed that 45% would leave their current employer if given the opportunity to work in a more modern, digital environment. That figure rises to 55% among respondents aged 18-24.
Today's younger manufacturing workers are digital natives. This creates expectations around digitalization and automation that SMEs have been unable to fulfill due to the cost and complexity of traditional automation and digitalization solutions.
Okura Kogyo, a Japan-based manufacturer of logistics systems successfully deployed collaborative automation on a complex pick & place application to address labor shortages, boost productivity and improve ergonomics for existing workers. The entire deployment took just three days.
Challenge #2 – Supply Chain 
The pandemic disrupted global supply chains across all verticals and the manufacturing sector is still struggling to recover. The gradual lifting of pandemic-related restrictions in 2022 has caused a rise in demand, which has compounded the problem further.
At one point last year, the gap between the output of Eurozone manufacturers and the orders they receive widened to a 24-year record because of supply chain disruptions. Order backlogs compounded by labor shortages have pushed many companies beyond their production capacity. Economists worldwide have warned about the impact on the global manufacturing sector and national GDPs. Some supply chain issues are easing in Q1 2022, but untangling all the bottlenecks could take years.
The experience of the past few years has certainly highlighted the weaknesses of current supply chain models. And while the effects are almost entirely negative, supply chain disruption has spurred reshoring efforts, which has created business opportunities for some SMEs as companies turn to local manufacturers for the products they need.
In 2022, manufacturers of all sizes have to plan differently and over longer time periods than in pre-pandemic times. Alongside this, a new vision has emerged: Instead of the pre-pandemic model of one global factory making everything and shipping it around the world, companies of all size are looking at SME-sized manufacturing facilities that are geographically closer to the customer and consumer.
Over time, this trend is likely to grow with the result that we will see fewer very large factories and more SME-size manufacturing facilities and suppliers. For global companies, this will ensure a more manageable supply chain. For SMEs, it's an opportunity –provided they have the right automation and digitalization tools they need to quickly scale up production.  
With supply chains in disarray due to the pandemic, Australian companies turned to Sydney-based injection moulding specialists Designed Mouldings for plastic caps and seals used in the packaging industry. By deploying collaborative automation from OnRobot and Techman, the company managed to achieve 3x faster production times, reduced material waste by 1-2% and expects to achieve full ROI within 6 months.   
Challenge #3 Quality Improvements
Improved quality leads to higher customer satisfaction and better price control. It also reduces waste and lowers overall costs. Over recent years, including pre-pandemic, the concept of quality has shifted from being treated as a straightforward matter of operational compliance to being understood as a strategic business driver.
A 2020 survey of mid-to-large size manufacturing companies with average revenue of USD25 million to USD1 billion-plus, found that that good quality adds an average of USD156 million, or 11 percent to bottom-line revenues. Moreover, the report found that poor quality costs organizations USD49 million per year on average. 
Collaborative automation and digitalization are commonly deployed to improve quality in production processes. In some cases, robots fitted with cameras can take over inspection tasks directly, which leads improves reliability compared to human inspection. In other cases, automation can improve quality by taking over processes that have been identified as generating waste or other quality issues.
Industrial automation ensures consistent quality and provides 24/7 availability. That's all well and good for large manufacturers, but traditional industrial automation is beyond the budget and know-how of most SMEs. Plus, its footprint is not a good fit for small manufacturing facilities. On top of that, traditional automation requires extensive safety guarding and fencing and is not safe to deploy in the same workspace as humans.
Challenge #4 Staying Competitive
Staying competitive is another perennial challenge that has been exacerbated by the pandemic and again by the post-pandemic recovery. After two years of handling threats to business continuity, increasing numbers of SMEs are returning to the competitiveness challenge.
Globally, manufacturers of all sizes are improving their processes and business models. For SMEs in particular, lowering costs and increasing productivity are the first places to find a competitive advantage.
Automation and digitalization are key to competitiveness in Industry 4.0. as companies benefit from massive cost savings and improvements in both productivity and throughput.
But SMEs are not a good fit for traditional industrial automation solutions, which are too costly, too complex, and take too long to deploy. When time is of the essence, traditional automation from the BC Era (Before Collaboration) is a solution that arrives too late. 
So, while larger manufacturing companies have been scaling up their automation and digitalization efforts, SMEs have to a large extent, been left behind.  
Swedish metal parts maker FT-Production deployed collaborative automation from OnRobot and Universal Robots to boost productivity and reduce costs. The deployment cut cycle time nearly in half, which in turn allowed a run of 150,000 units to be manufactured in less than two months, saving the company 500 worker hours.
Challenge #5 Sustainability
As global manufacturing moves to more sustainable models, SMEs find themselves incorporating sustainability practices into their business.
This means different things in different regions. In the United States, for example, the Environmental Protection Agency (EPA) defines sustainable manufacturing as the creation of manufactured products "through economically-sound processes that minimize negative environmental impacts while conserving energy and natural resources."
The European Commission's Industrial Strategy for Europe calls on companies of all sizes to accelerate digitalization of their manufacturing processes to make European industry more sustainable. In Asia, countries like South Korea and Japan were early adopters of sustainable manufacturing approaches, a practice that continues to this day.    
Central to global sustainable manufacturing initiatives are waste reduction, adoption of flexible manufacturing processes, and improving safety and ergonomics for workers. In addition, rising energy costs are also driving companies to look at their energy consumption. Traditional automation is fast, powerful, but also energy intensive, leaving SMEs in a tough spot.  
Danish food packaging specialists Plus Pack deployed collaborative automation on labor intensive packaging tasks to improve ergonomics –a key component of sustainable manufacturing-- for its workers. The flexibility of the solution allows the company to quickly reprogram the robot for small product runs –music to the ears of SME manufacturers that need automation suited to High Mix/Low Volume production.  
The Good News
This is the Collaborative Era. SMEs don't have to choose between complex traditional automation and having no automation at all.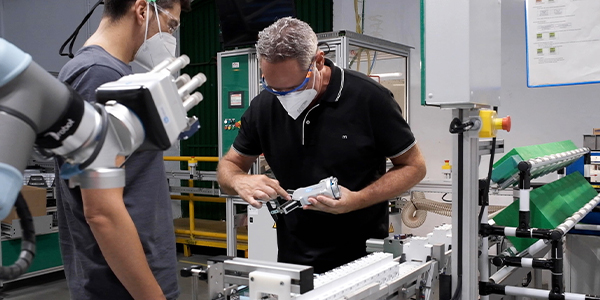 The emergence of collaborative robot applications means that automation has never been more accessible, safer, easier-to-use, and affordable than it is today. Designed to level the technological playing field between SMEs and larger manufacturing companies, collaborative automation and digitalization solutions allows SMEs to bridge the technology gaps that once held them back.
In one fell swoop, a collaborative automation deployment can fill labor shortages, improve ergonomics and employee retention, and help you to attract younger, digital native workers. Moreover, the increased productivity increases your ability to handle backlogs and supports reshoring initiatives. In addition, the improved quality and reduced waste that results from a collaborative automation deployment boosts competitiveness.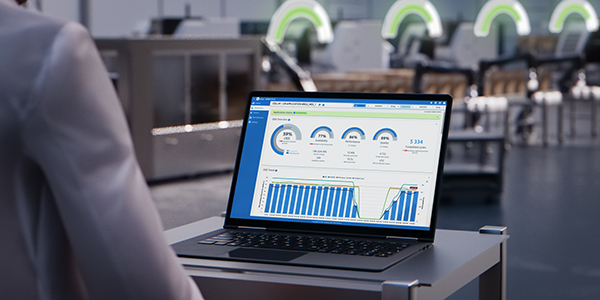 And from the sustainability perspective, SMEs have a wide range of all-electric collaborative automation solutions to choose from these days – a welcome alternative to energy-hungry traditional pneumatic and hydraulic systems. Moreover, collaborative automation provides the flexibility required to quickly support your sustainable manufacturing initiatives. 
Contact one of our experts today to find out more about how collaborative automation can help you take on the manufacturing challenges of 2022!

How to Grow your Business with Collaborative Applications

With the dawn of smarter, more adaptive tooling, robots can now function with greater speed, strength, safety and precision, accomplishing a wide range of tasks, while maximizing ROI. Learn more on how you can enable faster production at lower costs by downloading our free eBook.