#ThoughtsOnRobots: Cody James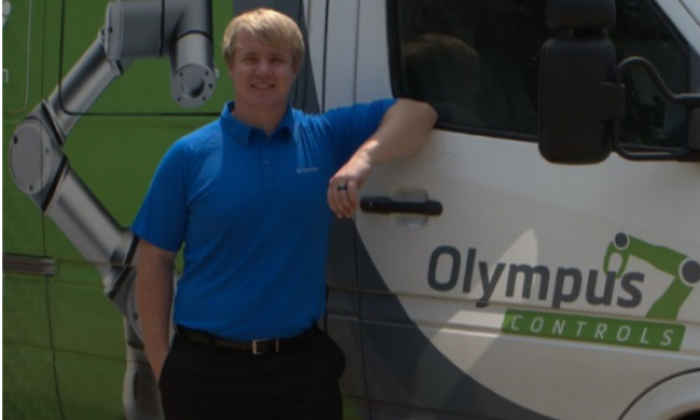 Cody James, Robotics Specialist, Olympus Controls

What do you see as the biggest trends within the field of collaborative robots right now?
Currently, the biggest trends in the collaborative robot market are increased reach and payload capabilities and increased development in graphical programming environments. These developments are allowing more people to self-install cobots into new applications without the need to be a robot expert.
How do you see the current trends within the area of end-of-arm tooling?
There has been a major focus on developing end-of-arm tooling that is easily adaptable to different applications and robot models. This development has led to standardized mounting plates that allow for quick changeover, easy-to-install wiring and user-friendly programming. The OnRobot Quick Changer is a great example of this. This theme of adaptable tooling will continue to grow as more robots move into high-mix, low-volume applications.
Why do you think the sales of collaborative robots have increased by 23% from 2017-2018?
For cobots, ease of use has played a huge role in much of this growth. The programming environments for these robots are user-friendly, yet powerful enough to solve difficult applications. This ease of use has brought system implementation time down to a matter of weeks, and sometimes days, rather than months and has empowered the user to confidently move forward with other robotic projects.
Where do you see the biggest potentials for collaborative applications in the future?
The next 5 years are likely to bring more process-based applications such as sanding, buffing, material dispensing and screwdriving to the cobot market. Though these types of applications are not new for robots in general, the typical complexity and size of traditional systems have kept some companies from moving forward with these applications. With cobots, many of those barriers are removed.
In your opinion, in which industries can end-of-arm tooling create most value for end users?
End-of-arm tooling can create the most value when a work process needs to be done repeatably for every part, such as a sanding process. The speed of the sanding wheel and the downward pressure on the part are critical to producing the correct surface finish. With the proper end-of-arm tooling in place, you can dial variables into these process to a level that will produce a consistent finish, every time. For industries that have these types of applications, end-of-arm tooling can help ensure a repeatable process.
What are the biggest challenges the collaborative robot industry will face in the future?
Cobots are a fairly new innovation in the timeline of robotics, with many people still not being aware that these types of industrial robots even exist. On top of that, there are also misconceptions about the capabilities of cobots and the applications that they do or do not fit into. The challenge going forward will be to educate the market at large on the capabilities of cobots.
What is most important when robot companies are developing new collaborative applications?
Overall user experience is critical: Everything from taking the product out the box to having the final system up and running should be as painless as possible. How easy is my product to physically set up or install? Is everything included in the box, ready to be installed? Is the user interface easy to navigate and learn? If a user has a question, how easy is it for them to find technical information and documentation? Are there simple "How-To" videos that users can quickly reference? These aspects affect the overall user experience and need to be considered during new product development.
Do you have a favorite collaborative robot or application?
CNC machine tending would be my favorite cobot application, hands down. The machining industry is feeling the sting of the current labor shortage, and it is very rewarding to be able to help these businesses overcome that challenge. The ease of reprogramming and redeploying a cobot also allows many CNC customers to be more competitive when bidding on new projects, thereby helping to grow their business. When this happens, the robot goes from a money-saving tool to a money-generating one.
What is your personal motivation for working within the robot field?
There is so much development in the robotics industry right now, with new technology coming out almost daily. This new technology is helping to make robotics a reality for applications that were not previously possible, from either a technological or economic standpoint. I am very fortunate to get to work with this new technology to help solve real problems that companies are having. It gives me the opportunity to exercise my inner nerd!

How to Grow your Business with Collaborative Applications

With the dawn of smarter, more adaptive tooling, robots can now function with greater speed, strength, safety and precision, accomplishing a wide range of tasks, while maximizing ROI. Learn more on how you can enable faster production at lower costs by downloading our free eBook.