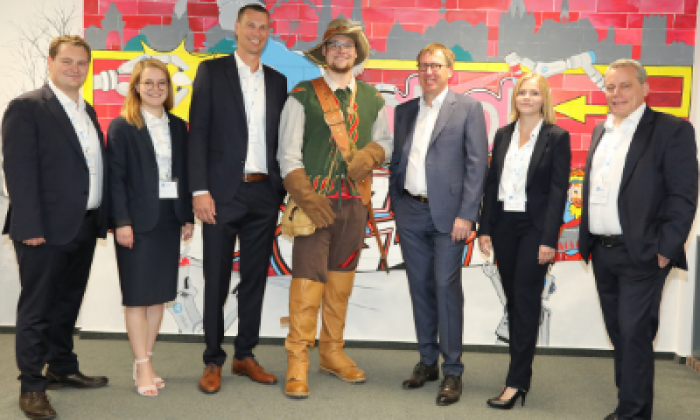 One robot opens a bottle of cola and fills it precisely into the matching glass, another robot arm offers croissants from a local cake factory, while another robot packs emergency exit lamps into cartons. OnRobot opened its first office for the region DACH and Benelux on 5th June with over 50 participants.
About 20 sales partners as well as some representatives from the economy gained insight in the new offices on Wednesday. Enrico Krog Iversen, together with Björn Milsch, General Manager for the DACH and Benelux region at OnRobot, and Jägerken, ceremoniously opened the offices - only a few weeks after the opening ceremony of OnRobot in Singapore.
Numerous business representatives were also present. Andreas Kerschl, BVMW, Artjom Hahn, Wirtschaftsförderung Kreis Soest, and Prof. Dr. Dobberstein, Wirtschaft und Marketing Soest GmbH, as well as Stefan Sagert of the Verband Deutscher Maschinen- und Anlagenbau (German Engineering Federation) were enthusiastic about the new offices.
Seven OnRobot employees have been working in the Soest office since the beginning of June, and two more are to be added by the end of the year. Conference rooms offer space for the exchange with customers and partners, a showroom shows products and applications. Above all, the favourable transport connections, including to the Benelux countries, were the deciding factors in the choice of location. In addition, many international industrial companies are located in Soest and the surrounding area. Soest was known throughout Europe as a Hanseatic city in the Middle Ages as "Susatum", and even today the city east of the Ruhr area is characterised by the industrial heritage of South Westphalia.
"We deliberately chose the Soest location," describes Milsch. "From here we are not only close to our partners in Germany but also quickly in the Benelux countries - the ideal location for us."
Dobberstein, Head of Business and Marketing Soest GmbH, is pleased that OnRobot has chosen Soest as the location for its German headquarters: "This strengthens the industrial location of South Westphalia, which is already the third strongest industrial region in Germany. We are confident that the new employees will feel at home in our beautiful city."