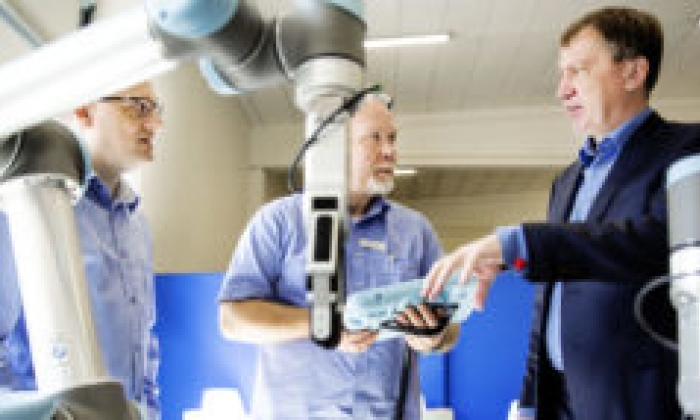 Leading provider of collaborative robot applications poised for global expansion
 ODENSE, DENMARK – August 30, 2018 – OnRobot A/S, a Denmark-based provider of end-of-arm tooling (EOAT) used in collaborative robot systems, today announced an investment led by global growth equity firm Summit Partners, with participation from existing investors including Vaekstfonden (The Danish Growth Fund). The funding will help support OnRobot's continued international growth and expansion of its product portfolio.
Headquartered in Odense, Denmark, OnRobot is a leading provider of hardware and software that help customers take full advantage of the benefits of collaborative robot applications: ease of use, cost-effectiveness and safe use alongside human workers. OnRobot integrates grippers, sensors and software to facilitate the deployment of robots in a broad set of industries and end-use collaborative applications, including packaging, quality testing, material handling, machine tending and assembly. Led by robotics pioneer Enrico Krog Iversen, OnRobot seeks to create a one-stop-shop for advanced collaborative applications with true plug & play functionality. Prior to OnRobot, Krog Iversen served as CEO of Universal Robots, which he grew into the global market leader for collaborative robot arms. Universal Robots was acquired by Teradyne in 2015.
"Innovation in collaborative applications is the next frontier in expanding the scope of collaborative robot systems," said Krog Iversen, CEO of OnRobot. "We are thrilled to partner with Summit and we are confident that the firm's global network and growth focus will prove to be valuable resources as we work to expand our product offering and geographic footprint."
"OnRobot is at the forefront of a new generation of factory automation technologies within the Industry 4.0 paradigm," said Johannes Grefe, a Principal with Summit Partners. "We are impressed with OnRobot's ability to capitalize on the fast-growing and dynamic market for collaborative robot applications, and we believe the company is well-positioned for accelerated growth."
"Over the last decade, Enrico helped establish Denmark as the Silicon Valley of robotic innovation," said Han Sikkens, a Managing Director with Summit Partners who will join the OnRobot Board of Directors. "We have great admiration for his entrepreneurial vision and drive, and we are excited to partner with Enrico to build OnRobot into a global leader."
"We invested in OnRobot in 2016 and very early on saw the potential of building an international frontrunner in collaborative applications headquartered in Denmark. We are proud to continue our support and partnership with Enrico and the OnRobot team in the company's global expansion, and we are very pleased to welcome the global resources of Summit," added Christian Motzfeldt, CEO at Vaekstfonden. "We look forward to working together to support OnRobot's next stage of growth."
About OnRobot A/S
OnRobot, based in Odense, Denmark and founded in 2015 offers technologies — both hardware and software — used in collaborative applications, mainly for collaborative robots (cobots). OnRobot integrates grippers, sensors and other cobot equipment to facilitate the use of the technology in applications such as packaging, quality testing, material handling, machine tending, assembly and welding, and is planning to acquire and manufacture additional technologies with worldwide support. In addition to its headquarters in Denmark, OnRobot has consolidated sales offices in Germany, China, the U.S., Malaysia, Spain and Hungary. For more information, visit www.onrobot.com.
About Summit Partners
Founded in 1984, Summit Partners is a global alternative investment firm that is currently managing more than $14 billion in capital dedicated to growth equity, fixed income and public equity opportunities. Summit invests across growth sectors of the economy and has invested in more than 475 companies in technology, healthcare and other growth industries. These companies have completed more than 140 public equity offerings, and more than 190 have been acquired through strategic mergers and sales. Notable technology and industrial technology companies financed by Summit Partners include Avast PLC, Darktrace, Elatec, Flow Traders NV, Fineline Technologies, Harvey Performance Company, Infor, Normec, SmartSheet, Trintec and Welltec. Summit maintains offices in North America and Europe, and invests in companies around the world. For more information, visit www.summitpartners.com or follow on Twitter at @SummitPartners.
About Vaekstfonden – The Danish Growth Fund
Vaekstfonden, The Danish Growth Fund is the Danish state investment fund. The Fund contributes to the creation of more new growth companies by providing capital and expertise. Since 1992, The Danish Growth Fund has, together with private investors and financial institutions, co-financed growth in more than 7,300 Danish companies with a total commitment of more than DKK 22.5 billion. In 2017, the companies had a combined turnover of more than DKK 98 billion and employed more than 63,500 people. The Danish Growth Fund's investments currently contribute to creating approximately 10,700 new jobs per year.
In the United States of America, Summit Partners operates as an SEC-registered investment advisor. In the United Kingdom, this document is issued by Summit Partners LLP, a firm authorized and regulated by the Financial Conduct Authority. Summit Partners LLP is a limited liability partnership registered in England and Wales with registered number OC388179 and its registered office is at 11–12 St. James's Square, London, SW1Y 4LB, UK. This document is intended solely to provide information regarding Summit Partners' potential financing capabilities for prospective portfolio companies.