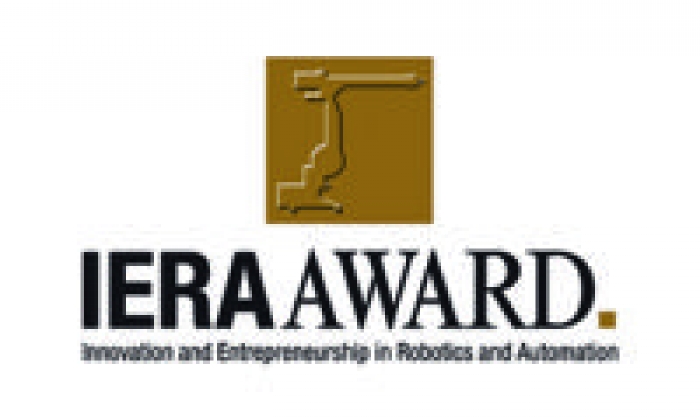 OnRobot receives prestigious award for industrial application of innovative NASA technology
 OnRobot's self-cleaning Gecko Gripper won the coveted Innovation and Entrepreneurship Award (IERA) at the 50th International Symposium on Robotics in Munich. The technology offers a whole new approach for collaborative industrial robotics and makes new applications possible, for example in sheet metal processing or in the fabrication of solar panels.
Since 2005, the IEEE Robotics and Automation Society (IEEE/RAS) and the International Federation of Robotics (IFR) have honoured companies for pioneering achievements in the field of automation technology. The Gecko Gripper priced this year is based on a concept developed by NASA Jet Propulsion Laboratory (JPL) and Stanford University: Due to strong Van der Waals forces, millions of microscopically small fibres on the gripper's four surfaces adhere to workpieces pressed against it. The adhesion works just like that of gecko feet, even on smooth surfaces.
The former start-up Perception Robotics, now part of the Danish manufacturer OnRobot, licensed and developed the technology to marketability. "We are very proud of the award," says Enrico Krog Iversen, CEO of OnRobot. "In the next couple of years, robots will gradually become an industrial commodity. Innovation and added value will then increasingly come from the applications themselves, their environment, end effectors and sensors. Receiving the award reflects this trend."
Novel adhesion technology in human-robot collaboration
The Gecko Gripper is the world's first market-ready adhesive gripping system of its kind. In contrast to conventional vacuum grippers, the system can easily lift and deposit materials with holes or porous workpieces, such as printed circuit boards. Adhesion happens almost instantaneously and residue-free, which leads to increased throughput in production. Light pressure is sufficient to ensure that a workpiece adheres reliably.
Although the adhesive process requires some electricity to engage, the grip does not diminish, even in the event of power failure. At the same time, failure-prone compressed air and hose systems are no longer needed, which reduces energy and maintenance costs remarkably. Because of its high energy efficiency, the Gecko Gripper is also superior to electrostatic grippers. Its payload reaches up to eight kilograms, depending on the surface structure and contamination of the objects to be lifted. An integrated sensor automatically detects workpieces with a thickness of up to 240 millimetres and determines the necessary force for a secure adhesion process.
Thus, pick-and-place tasks involving long, flat workpieces such as solar panels, in glass production or sheet metal processing can be automated extensively for the first time. The gripper is also suitable for handling ceramic tiles, screens, windscreens or lids of cosmetics, guaranteeing a wide range of applications. It is compatible with Universal Robots, Kawasaki and Fanuc robot arms.
Self-cleaning technology for sustainable production
Since the gripping surfaces' functionality diminishes with increasing contamination of their fine microstructures, OnRobot has developed a special self-cleaning mechanism. It is integrated under the four gripping surfaces and ensures a long-lasting use of the fibres. The technology combines piezoelectric ultrasound with an electrostatic process. Within 15 seconds, it can compensate for a contamination-related loss of adhesion of ten percent. Repeated cleaning and contact cleaning can thus restore 99 percent of the original adhesive strength.