BRINGING AUTOMATION BARRIERS DOWN WITH END-OF-ARM TOOLING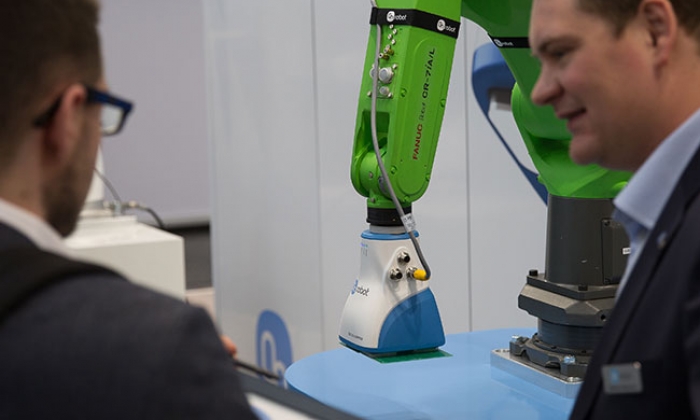 Industrial automation Challenges/Introduction
Historically, one of the biggest barriers to automation has been cost and time constraints associated with the production setup. The procedure is usually performed by a team of robotics experts adept in programming languages and advanced engineering, subjects unfamiliar to most.
Increasing emphasis on smart manufacturing has started a revolution in the manufacturing sector. As a result, businesses are facing challenges to keep up with the rapidly changing trends in the manufacturing industry. There is also pressure to expand processing lines to improve productivity.
Demand for automation is flourishing from various manufacturing sectors leading to greater innovations in industrial robotics. With this trend, companies are prompted to adapt more and more intelligent tools that can help the production workforce with faster deployment and installation, saving their precious time on planning and strategy.
But not many businesses have been able to do so quickly because most of them are not ready to address collaborative applications with newer technologies due to limited knowledge or resistance to adopt modern EOAT with collaborative robots. Large traditional robots are the most complex which may restrict the time and focus for innovation in other automation areas.
Continuous transformation in technology and the rise in collaborative applications in industrial automation have made robots become easily deployable. Intelligent end-of-arm tooling devices come with in-built features that are programmable without expertise and enable faster set-up. With EOAT, automation becomes more inclusive, enabling collaborative applications to meet modern automation needs.
Easy and Robust System Integration with Collaborative Tools
System integrators have been of immense importance in robotics as they provide support with programming and outfitting processes. A robust system integration plan is not complete without the right EOAT devices. In fact, a major part of a plan focuses on picking the right end effectors such as grippers, sensors and tool changers, that can be easily programmed with the robot. With more applications being collaborative in nature, system integrators believe that fitting appropriate tools around robots is becoming more crucial than robots alone. EOAT tools enable a two-way information exchange between the robot and the object. It makes installation simpler and easier, reducing set-up time and effort drastically.
Smart, flexible and collaborative robotic accessories, or (EOAT), completely revolutionize the flow and quality of systems integration (SI).
Intelligent grippers, for instance, can collect and communicate crucial data to robots in real time to improve their accuracy and overall performance. Capable of safely passing products to human operators, these state-of-the-art grippers can essentially function as automated co-workers. For machine tending, dual grippers can operate up to 50-percent faster for computer numerical control (CNC) machine utilization.
Intelligent EOATs benefit system integrators in many ways. Unlike dated homegrown technology, advanced EOATs can handle multiple tasks and varying projects, which saves time wasted on reprogramming and redeployment. Ready for easy integration out of the box, these tools can not only be implemented with ease, but also come with pre-programmed software packages that further quicken the installation process.
OnRobot's growing suite of cutting-edge EOATs and applications can work with robots across industries and manufacturers. The RG2-FT Gripper, with its built-in six-axis F/T Sensor fingertips and proximity sensor it can detect a product's location even if it is not precisely positioned. This feature can be invaluable for tasks that require an item's placement on or removal from conveyor belts. It is also ideal for precision assembly of electronics, automotive parts and other machinery.
The Upshot of Automation
When it comes to robotic automation, quality control is crucial for businesses because mishandled and otherwise ruined raw materials have real consequences for a company's bottom line. Legacy tools that are either not smart enough and/or incapable of adapting to different products and environments may cause such wastage.
EOATS like OnRobot's breakthrough HEX 6 axis F/T Sensor are designed to eradicate such issues. It provides accurate force and torque measurements along all 6 axes, resulting in precise control when it comes to difficult assembly, polishing, sanding or deburring jobs. Additionally, it has in-built software that can manage path recording, force control and special features for insertion tasks. This means reduced integration time for production lines.
Breaking Down Barriers
In 2018, Enterprise Management Associates released a survey of more than 1,000 IT and business-related professionals at companies with more than 500 employees. Among other findings, only four percent of respondents said their company was "not as good as most" in terms of automation maturity; in comparison, 41 percent described their business as "very mature" or "state of the art."1
Those businesses that do not explore new automated technologies may limit their growth potential and risk falling behind competitors. Integrating automation into processes can be difficult, but technological advances that make modern robotic tools and accessories easier to install, more compatible and more flexible have made it easier than ever before.
[1] https://www.ca.com/content/dam/ca/us/files/white-paper/ema-research-on-the-state-of-enterprise-automation-2018.pdf

How to Grow your Business with Collaborative Applications

With the dawn of smarter, more adaptive tooling, robots can now function with greater speed, strength, safety and precision, accomplishing a wide range of tasks, while maximizing ROI. Learn more on how you can enable faster production at lower costs by downloading our free eBook.