Collaborative Machine Tending Saves Time in Manufacturing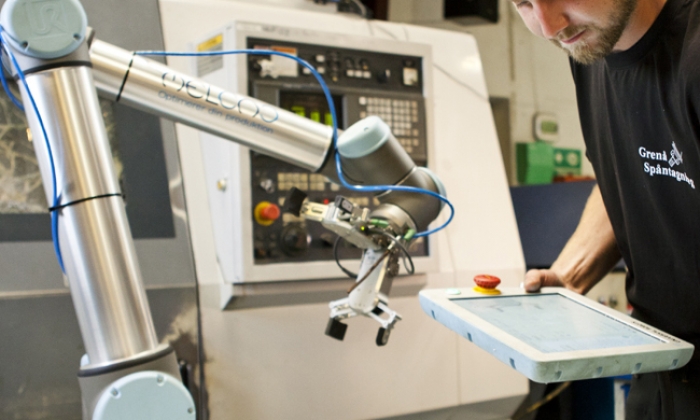 Collaborative Machine Tending Saves Time in Manufacturing
Machine tending is the process of feeding materials into CNC machines and other industrial fabrication machines. At the moment, most machine tending is still carried out by people, but robots are beginning to revolutionise this monotonous area of manufacturing.
Why Apply Robotic Machine Tending
To put it simply, robots (or co-bots that work collaboratively alongside humans) can tend machines more efficiently and cost-effectively.
Using innovative end-of-arm tooling (EOAT) attachments affixed to the end of a robotic arm, most of the machine tending process can be automated.
The robotic arm can pick up the materials from a supply position, transport it to the machine and feed it in accurately. The robot integrates with the machine to know when the machining is finished and can remove the finished article.
The main benefits of this industrial automation are:
Quality

Consistency

Speed
The installation of collaborative EAOT attachments is fast and easy and they are highly customizable. The force and stroke size of the grippers can also be adjusted. Due to the efficiency and low overheads,  companies can expect to receive a return on their investments in only a few months.
This collaborative application approach is becoming increasingly popular in all sectors of manufacturing, but it particularly appeals to small and medium-sized manufacturing plants where budgets won't allow for large-scale production-line robots. Also, the technology is very flexible and the robotic operators need little training, saving both time and money.
Save Time with Dual Grippers
The most important factor when planning to use collaborative robots is to choose the right set of EOAT units. These enable the automated arms to handle various materials and carry out basic tasks such as placing and picking pieces on a CNC machine.
The recommended tools for machine tending are RG2 and RG6 dual grippers. These industrial grippers attach easily to the end of a robotic arm and are designed for various collaborative applications including machine tending, pick and place, packaging and palletizing, and even assembly.
There are several features of OnRobot's RG2 and RG6 grippers that make them ideal for machine tending:
Dual Gripper Option - This means that two pairs of grippers can be applied per arm, effectively doubling the number of products each one can handle. This will cut the time taken up by machine tending by half.
Wide Stroke – Variety of width settings, allowing the grippers to handle a variety of material and object sizes.
Interchangeable Fingertips – Any 3D-printed fingertip can be used, to handle any form. Any shape that is created in a CNC machine can be handled by these flexible grippers.
Adjustable Force – Soft or hard materials can be picked and placed, and the force values are easily adjusted to suit.
All these features are designed to save time as a single gripper (or pair of dual grippers) can be used throughout the operation, without the need to change them.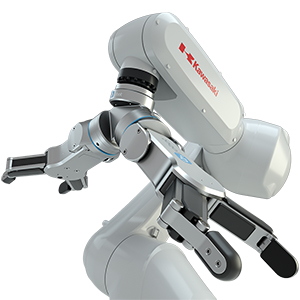 OnRobot Dual Gripper on Kawasaki Robot
Some Real-World Examples of Automated Machine Tending
Swedish aluminium parts manufacturer FT-Production recently installed collaborative applications in their production line to carry out repetitive tasks.
Installations include grippers from OnRobot and robotic arm component from another manufacturer. The owner expects to get a return on his investments in less than nine months as the production line is faster and much more cost effective.
100-year old transmission parts manufacturer, Osvald Jensen, partnered with OnRobot to automate and streamline their manufacturing processes by installing pick and place grips. The Danish company is an early adopter of the technology and started using OnRobot gripper in their daily production in 2015. It received a return on investment in less than 3 months.
To further improve their productivity in a cost-effective way, the company deployed the dual grippers which reduced the production time by almost 80 percent.
The Future of Production Lines
The demand for EOAT is skyrocketing. The global market for EOAT has been valued at $1,580 million in 2018 and is expected to reach $2,740 million by the end of 2025, according to QYResearch. This estimation put the growth rate at a CAGR of 7.1 percent from 2019 to 2025.
This represents a seismic change in manufacturing processes.
To survive in highly competitive markets, manufacturers must scale-up their production quality and quantity. This can easily be achieved by setting up collaborative applications. In small and medium-sized plants where installation costs become a roadblock for automation, these flexible and cost-effective solutions can bring intelligent technologies to the age-old production lines.

How to Grow your Business with Collaborative Applications

With the dawn of smarter, more adaptive tooling, robots can now function with greater speed, strength, safety and precision, accomplishing a wide range of tasks, while maximizing ROI. Learn more on how you can enable faster production at lower costs by downloading our free eBook.