Collaborative Robotics: Focus on the application

Each robot must be considered as an overall installation. Only as such can it add sustainable value for the end user.
The introduction of collaborative robotics into today's production environments is tantamount to a technological paradigm shift. Processes as we knew them are changing sustainably. Where humans and robots used to be separated by safety fences, they work side by side today. Robots take on tasks that are monotonous and repetitive, so that employees can devote themselves to more demanding activities.
Due to their flexibility, collaborating lightweight robots – so-called cobots – can be used in a wide variety of industries and application areas. This is due to the numerous advantages they offer, such as
safety when working alongside people
uncomplicated handling and fast commissioning, with no specialist knowledge required
fast amortisation, making an introduction even feasible for small and medium-sized enterprises
It is therefore hardly surprising that the demand for collaborative robots is currently rising massively.
Cobots: only functional as a complete solution
Cobots are functionally flexible and cover a wide range of tasks. However, the robot arm itself only gains its operational capability from the addition of applications. This idea can be illustrated by the example of the smartphone: The device itself is useless and has no function – only with apps installed can the user make phone calls, answer e-mails or surf the Internet.
The same applies to automation solutions: A robot arm alone is not providing any help. Only when end effectors, grippers or sensors are mounted can it accomplish tasks. And only then does it offer added value – the right combination of peripherals is decisive.
This insight should determine how we view the topic in the future, because regarding the changing environment, collaborative robotics will soon become an integral part of our working world.
End effectors determine the scope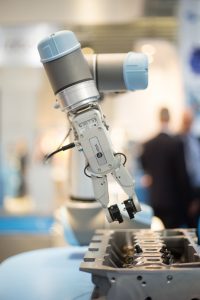 Eventually, it is the end effector that adds value to the application. © David Klein
Only if the right technology is used in the right place can robots provide effective relief in the networked production process.
The combination of lightweight robot arm and gripper alone is traditionally particularly suitable for pick-and-place or packaging tasks. In combination with other tools, however, their usability increases considerably.
In order for a gripper to acquire the necessary sense of touch to perform precision tasks, it must be equipped with the appropriate sensors. They provide the necessary sensitivity. Installed between robot arm and end effector, they enable robots to perform highly complex tasks for which sensitivity is required, even today.
And the development continues: Gecko grippers, for example, use an adhesive system modeled on gecko feet. They can handle flat, highly sensitive and porous surfaces even better without damaging them. This will further enhance the usability of collaborative robotics.
While a robot arm is of little help on its own, grippers and sensors expand it for a functional and individually tailored automation solution: Each robot is an overall installation.
Only as such can it deliver on the promises of successful human-robot collaboration: easy operability, cost efficiency and security – in the immediate vicinity of employees.

How to Grow your Business with Collaborative Applications

With the dawn of smarter, more adaptive tooling, robots can now function with greater speed, strength, safety and precision, accomplishing a wide range of tasks, while maximizing ROI. Learn more on how you can enable faster production at lower costs by downloading our free eBook.