Intelligent Tools to Shape a Smart Manufacturing Ecosystem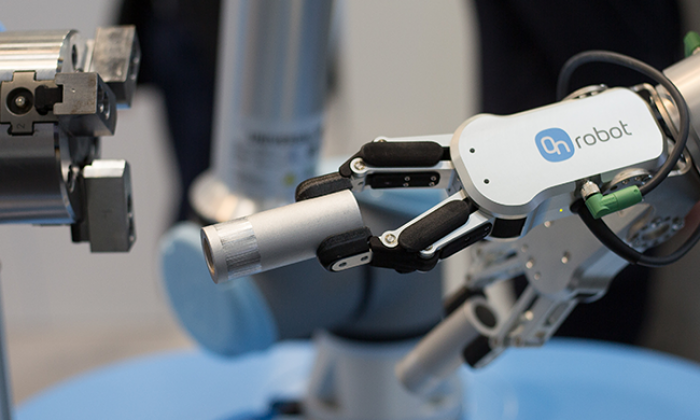 Every company requires unique automation solutions for their specific production environment, but businesses can't redesign facilities for every different process and application. Therefore, it's crucial that companies choose the optimal set of robot accessories to maximize the automation value. The appropriate accessories can help turn the entire production lifecycle into a seamless process, from purchase and installation to operations and redevelopment.
End-of-arm tooling devices, or EOAT, are usually fitted at the end of a robotic arm to perform a range of tasks. Robot grippers, for instance, can deftly handle various materials, while robust sensors generate alarms to correct a robot's positioning. Tool changers allow for quick and easy switching from one tool to another. When fitted with these advanced tools, robots become intelligent objects capable of sensing, acting and behaving within smart manufacturing environments.
New-age intelligent robot accessories offer the innovation, expertise and precision that smart manufacturing requires. These technologies, however, are also changing the economics of manufacturing, e-commerce and agriculture as these industries increasingly leverage EOAT's built-in technology and intelligence to considerably reduce production costs and efforts.
According to a new market study, the global robotics EOAT market is expected to reach USD$9.2 billion by 2020, growing at a CAGR of almost 9 percent, a surge in line with the rising adoption of robotic automation. According to the International Federation of Robotics, about 630,000 robot units will be supplied to factories around the world in 2021, growing at a CAGR of 14 percent annually1.
EOAT for Faster and Smarter Automation Adoption
EOAT enables businesses to take on new applications because robots are more efficient when accessorized with EOAT for custom-tailored solutions. EOAT has a great influence on the robot's performance and flexibility. In fact, automation process efficiency largely depends on the grippers and other intelligent tools that interface with the robot.
Modern grippers and power sensors show that the potential of intelligent robot accessories is enormous. With collaborative applications, businesses want more than just efficient automation from machines—they also want to access the robots remotely and diagnose problems online. Intelligent EOAT with smart hardware and software helps collect and analyse data to deliver feedback and increase capabilities.
With EOAT, machines will become more compact, smart and self-contained to efficiently run collaborative applications, which makes automation easier and more affordable for businesses.
Choosing the Right Robot Accessories
The tools and accessories fitted on and around robots make or break a robot's effectiveness.
EOATs communicate two-way information exchanges between tools and robots that enable efficient operations and increase production. For example, some high-precision grippers use built-in technology that allows them to mimic human fingertips. These grippers are used in agriculture to pick and place herbs and other delicate items without damage.
OnRobot's RG2-FT intelligent gripper, with its ground-breaking sense of sight and touch, is the world's first intelligent gripper that can see and feel objects using built-in force, or torque sensing.
EOAT push the limits of human interaction—modern grippers are so sophisticated that they can even handle the fragile silicon wafers used in manufacturing computer processors. Force torque sensors help locate and detect an object's presence for greater accuracy. These grippers are used in those manufacturing processes that require the application of a precise force to achieve high-quality results.
Such applications as surface finishing, packaging and palletizing, machine tending, and assembly not only require precision, but also the ability to customize tasks based on batch size and subsequent necessities. This unique capability has also allowed enterprises of all sizes to introduce the right EOATS into their production line. According to a recent release, material-handling contributed to nearly 42 percent of the robotics EOAT market share in 2018—the largest of any segment.
Modern Industrial Landscapes Require Application-Focused Solutions
Businesses that continue using traditional methods, such as fabricating unique tools for specific manufacturing tasks, are at a significant disadvantage because of the high cost and inflexible nature of this approach. In comparison, grippers, sensors and other flexible application-focused solutions can be customised to handle different shapes, sizes and materials.
These flexible, highly versatile tools can be seamlessly integrated into multiple production environments. Their adjustable features, advanced technology and smooth assimilation will shorten production cycles and reduce downtime. This opens options to other hardware solutions, reducing the cost of robotic solutions and lowering barriers to automation. Ultimately, EOATS will save money.
A Complete Solution
As technology continues driving transformation across industries, companies must consider automation to reduce costs and improve operational flexibility. To achieve this, robotic accessories need to be smarter as they are crucial in carrying out collaborative applications. Bringing intelligent technologies and tools to the forefront allows companies to meet the growing need for industrial mechanization—and with a shorter learning curve, this empowers all enterprises to dream big with automation.
1 https://ifr.org/ifr-press-releases/news/global-industrial-robot-sales-doubled-over-the-past-five-years

How to Grow your Business with Collaborative Applications

With the dawn of smarter, more adaptive tooling, robots can now function with greater speed, strength, safety and precision, accomplishing a wide range of tasks, while maximizing ROI. Learn more on how you can enable faster production at lower costs by downloading our free eBook.