The Power and Importance of Sensing Technologies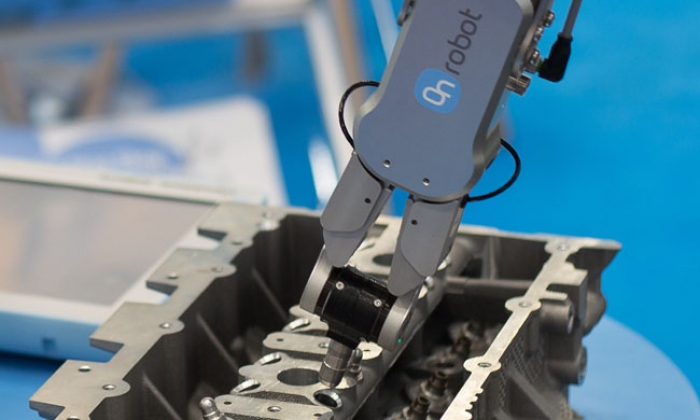 The Power and Importance of Sensing Technologies
End effectors, or end-of-arm tooling (EOAT), are one of the most important components of modern industrial automation. While flexible gripping technology has greatly improved the picking and placing of objects, sensing technologies enable force control, equipping the robot to place and fit objects precisely. The force sensing capabilities in advanced force/torque and proximity sensors help to find the right orientation of the object using the right amount of force.
It is crucial for businesses to focus on a variety of EOATs—grippers, sensors, tool changers, vision control—because the various combinations of these tools present significant value for industrial automation. Sensors help manufacturers identify the right combination of EOAT for specific production applications. For example, rather than trying to use a single EOAT to do everything, tool changers make it easy to quickly switch grippers, and sensors help them locate a collision-free path.
Sensors Enable Collaborative Automation
Most collaborative applications require complex manipulation for object handling. This includes correctly mapping the items' exact locations, operating in a collision-free path, controlling the applied force and simultaneously managing complex interactions between the robot and environment. The latest sensing techniques in proximity and force/torque sensors enable grippers to maneuver without collision and damage. They also help grippers clutch objects with the right force, therefore supporting collaborative applications.
Sensors are like GPS in that they guide automation for modern collaborative applications. Found in a diverse range of industrial system applications, sensors act as an interface between the object and its environment, providing feedback based on the executed task's results. Everything from productivity and quality to reliability and safety heavily depend on the performance of EOAT sensors. OnRobot's sensors come with a force control package where the hardware and software complement each other, making deployment easier and saving costs.
It is no surprise, then, that as industry applications evolve, the demand for innovative sensor designs and techniques is increasing rapidly. Global annual revenue from inductive proximity sensors was valued at more than $1.2 million by the end of 2017, according to Persistence Market Research.[1]
Advanced Sensors Transform Modern Industrial Automation
Sensors help detect such variables as light, temperature and collision points, a crucial feature that helps makes automation tasks successful. Because they're so important, sensors are today utilized in a variety of ways in the industrial automation domain—and they've become highly diverse and versatile. Depending on the task, businesses can implement temperature sensors, pressure sensors, MEMS sensors, torque sensors, position and proximity sensors and luminescence sensors, to name just a few.
These new and innovative sensing technologies have made previously impossible applications a reality. For example, OnRobot's Gecko Gripper uses a biologically inspired microscopic sensor that helps grasp flat objects more effectively than current electrostatic methods.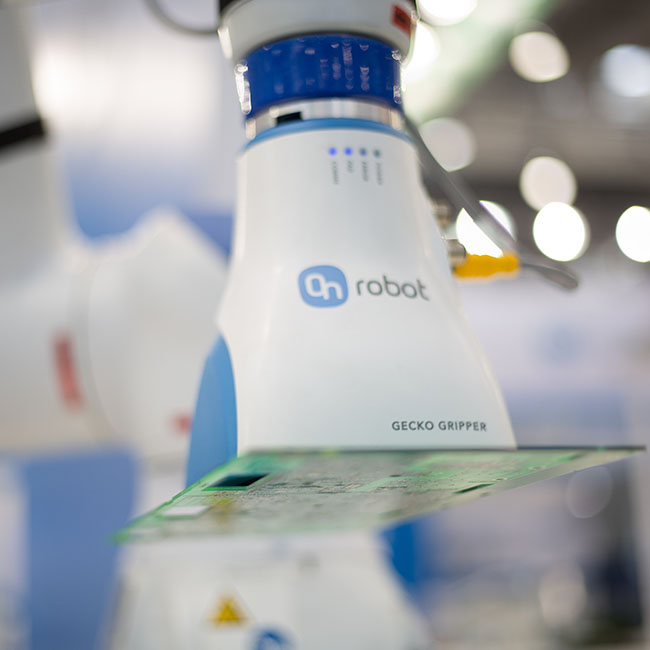 Sensors must function flawlessly since they determine robot performance across applications, such as when they distinguish between correct and incorrect movement or information to help grippers react accordingly.
OnRobot's RG2-FT smart gripper, which debuted at the 2018 Automatica Show in Munich, includes six-axis force and torque and proximity sensors. It can control both itself and the robot to achieve what the human operator intends, even if the exact parameters are not programmed in advance. This creates true collaboration with operators and co-worker-like support.
OnRobot 6-axis force torque sensors provide accurate force and torque measurements along all 6 axes that gives precise control during difficult and collaborative applications of assembly, polishing, sanding etc. It comes with a HEX software that includes special features for easy integration.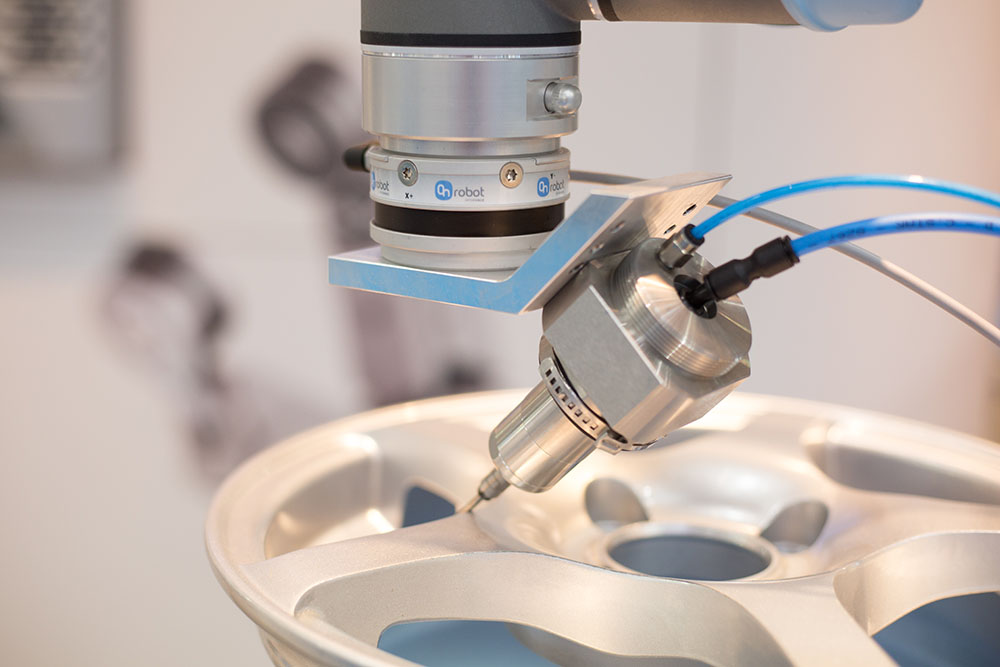 Collaborative applications such as surface finishing becomes easier with a force/torque (F/T) sensor as it enables the robot to follow any kind of complex path and curves, delivering  perfect quality - something  not possible with traditional robots.
OnRobot's HEX F/T sensors are great for applications that deal with high tolerance, especially while dealing with automotive parts. For example, inserting pins into a motor head needs the right orientation,  requiring high precision. Also, applications such as polishing and sanding or deburring require constant force on the surface. Sensors with force and torque settings are highly efficient for such applications in furniture, shipbuilding, and aircraft manufacturing.
How Sensors Help Businesses Grow
Sensors provide dependability and application flexibility for businesses to automate collaborative application. Smart sensing technology also helps businesses merge disparate data into streams of actionable information to optimize automation tasks in real time.
By adding the sense of touch and feel through sensors, businesses can save on human effort by avoiding repetitive work due to errors, thus lowering automation and production costs.
EOAT developers continuously work to further enhance sensing capabilities. Sensing development and the overall effort to further improve automation for businesses continues, but today's smart gripping and sensing technologies show just how far the mechanization has already come.
---
[1] https://www.sensorsmag.com/components/proximity-sensors-cozy-into-comfortable-market-position

How to Grow your Business with Collaborative Applications

With the dawn of smarter, more adaptive tooling, robots can now function with greater speed, strength, safety and precision, accomplishing a wide range of tasks, while maximizing ROI. Learn more on how you can enable faster production at lower costs by downloading our free eBook.