包装和码垛
自动化包装线为您开辟协作型模式的生产,让自动化机器人解决方案与员工并肩工作。使用安装了 OnRobot 加工臂终端的协作式包装机器人,可节省包装时间,减轻您的工人从事重复性任务的工作量。借助于 OnRobot 夹持器的可调节作用力,可以非常灵活、简单地整合包装问题的解决方案。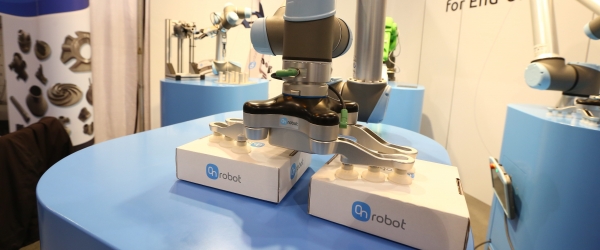 GRAB & PACK
With its built-in electrical vacuum pump, the VG10 vacuum gripper takes up less space and uses less energy than traditional vacuum grippers. Since you can customize the suction cups, you can find the exact configuration for handling your particular packaging needs. Easy installation and programming mean the VG10 is packing up your products in no time.

How to Grow your Business with Collaborative Applications

With the dawn of smarter, more adaptive tooling, robots can now function with greater speed, strength, safety and precision, accomplishing a wide range of tasks, while maximizing ROI. Learn more on how you can enable faster production at lower costs by downloading our free eBook.