表面处理
您可以进行"示教",使 OnRobot 表面处理解决方案可沿任何类型的复杂轮廓进行处理,节约编程时间。使用 OptoForce 技术和软件包的 OnRobot 力/转矩传感器使机器人能始终保持相同的力和速度。短时集成、易于编程,可精确完成表面处理任务。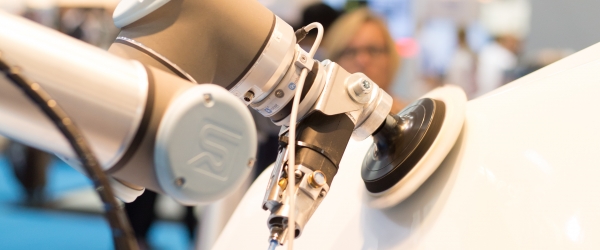 PERFECTLY POLISHED
The HEX sensor, coupled with the right polishing tool for your surface makes the ideal solution for everything from cars to stainless steel sinks to furniture legs to kitchen items like mixers and refrigerators, but also machining of parts that need a polished surface.

How to Grow your Business with Collaborative Applications

With the dawn of smarter, more adaptive tooling, robots can now function with greater speed, strength, safety and precision, accomplishing a wide range of tasks, while maximizing ROI. Learn more on how you can enable faster production at lower costs by downloading our free eBook.