Collaborative Automation Gives MedicoPack Even Cleaner Products in a Shorter Time
Collaborative Automation Gives MedicoPack Even Cleaner Products in a Shorter Time

Two collaborative robots (cobots) fitted with four grippers from OnRobot are assisting with two production lines at the MedicoPack factory in Langeskov, Denmark, where they produce a significant number of infusion containers every day. Once the plastic containers are molded and checked, they are moved via a conveyor belt past the robot arms, which are each fitted with two OnRobot grippers, so they can pick up two items at a time and stack them correctly, making them ready for packing.

Previously, the finished infusion containers were collected in a large packing bin, from which they were manually checked, stacked, and packed. MedicoPack deemed that this could be done more expediently, not just in terms of efficiency, but also in terms of contamination risk. Therefore, MedicoPack opted for automating the stacking process.

"The risk of our customers experiencing particles – what we call contamination – on the products is reduced because of the solution from OnRobot. The cleanliness of the product is very important to our customers, because the products will be used for medication, and it matters what touches the medication. They must be 100% confident that the quality is good, so the medication they fill it with will not be ruined by our containers. We have developed this confidence over a number of years by always delivering products of the proper quality", says Kenneth Sæderup Pedersen, project manager at MedicoPack.


Find an Automation Expert Near You >>

MedicoPack is happy about the fact that their already low contamination risk has been reduced, while the efficiency of the production line has been improved significantly. It is no longer necessary for an employee to stand by the conveyor belt and count the items while ensuring they are oriented the right way. This frees up both time and resources.

"We chose OnRobot's grippers in collaboration with our machinery supplier who recognized the opportunity of meeting some of our requirements by handling the items with grippers. Among other things, there are options for tightness of the grip, placement of the grippers, and the speed with which they close", says Kenneth Sæderup Pedersen.

He is also excited about the design of the grippers.

"Aesthetically, the grippers have a very nice design, and there is just a single, tiny wire – other than that, they are clinically clean. There are no hoses running the length of the robot, like one might normally see. It is a nice look that contributes to simplifying the entire concept, delivering a clean look and high quality for the customers. At the same time, it reduces both implementation and programming time", emphasizes Kenneth Sæderup Pedersen.


About MedicoPack

MedicoPack offers expert solutions for "primary packaging" and medical equipment. The company has more than 50 years' experience in designing, developing, and manufacturing special plastic packaging for the medical and pharmaceutical industries. The company was established in 1968 when MedicoPack developed the world's first infusion container in plastic in collaboration with university hospitals. The product was so revolutionary that it replaced the traditional glass bottles that were used for infusions at the time. MedicoPack is owned by Danish SP Group A/S, which employs more than 1900 people worldwide in the concern's manufacturing and sales departments in Sweden, Poland, Holland, Germany, Brazil, China, Canada, and the United States.

Find an Automation Expert Near You >>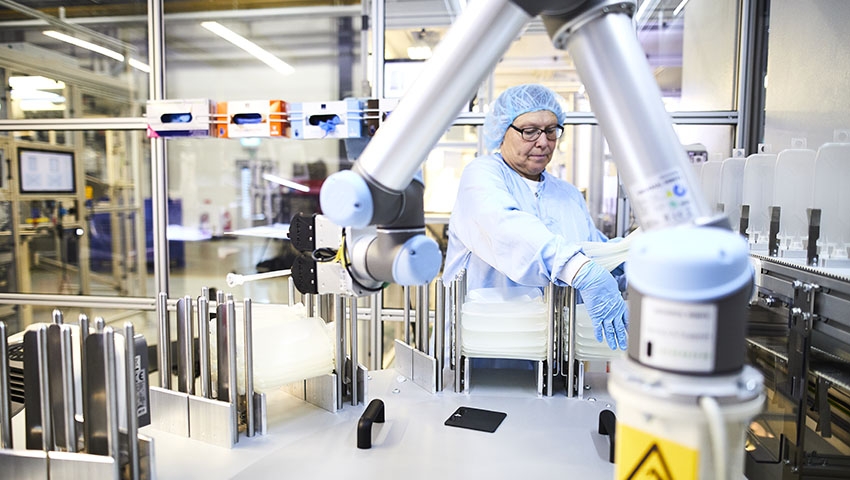 Watch the video
Collaborative Automation Gives MedicoPack Even Cleaner Products in a Shorter Time
Collaborative Automation Gives MedicoPack Even Cleaner Products in a Shorter Time
Two collaborative robots (cobots) fitted with four grippers from OnRobot are assisting with two production lines at the MedicoPack factory in Langeskov, Denmark, where they produce a significant number of infusion containers every day. Once the plastic containers are molded and checked, they are moved via a conveyor belt past the robot arms, which are each fitted with two OnRobot grippers, so they can pick up two items at a time and stack them correctly, making them ready for packing.

Previously, the finished infusion containers were collected in a large packing bin, from which they were manually checked, stacked, and packed. MedicoPack deemed that this could be done more expediently, not just in terms of efficiency, but also in terms of contamination risk. Therefore, MedicoPack opted for automating the stacking process.

"The risk of our customers experiencing particles – what we call contamination – on the products is reduced because of the solution from OnRobot. The cleanliness of the product is very important to our customers, because the products will be used for medication, and it matters what touches the medication. They must be 100% confident that the quality is good, so the medication they fill it with will not be ruined by our containers. We have developed this confidence over a number of years by always delivering products of the proper quality", says Kenneth Sæderup Pedersen, project manager at MedicoPack.

Find an Automation Expert Near You >>

MedicoPack is happy about the fact that their already low contamination risk has been reduced, while the efficiency of the production line has been improved significantly. It is no longer necessary for an employee to stand by the conveyor belt and count the items while ensuring they are oriented the right way. This frees up both time and resources.

"We chose OnRobot's grippers in collaboration with our machinery supplier who recognized the opportunity of meeting some of our requirements by handling the items with grippers. Among other things, there are options for tightness of the grip, placement of the grippers, and the speed with which they close", says Kenneth Sæderup Pedersen.

He is also excited about the design of the grippers.

"Aesthetically, the grippers have a very nice design, and there is just a single, tiny wire – other than that, they are clinically clean. There are no hoses running the length of the robot, like one might normally see. It is a nice look that contributes to simplifying the entire concept, delivering a clean look and high quality for the customers. At the same time, it reduces both implementation and programming time", emphasizes Kenneth Sæderup Pedersen.

About MedicoPack
MedicoPack offers expert solutions for "primary packaging" and medical equipment. The company has more than 50 years' experience in designing, developing, and manufacturing special plastic packaging for the medical and pharmaceutical industries. The company was established in 1968 when MedicoPack developed the world's first infusion container in plastic in collaboration with university hospitals. The product was so revolutionary that it replaced the traditional glass bottles that were used for infusions at the time. MedicoPack is owned by Danish SP Group A/S, which employs more than 1900 people worldwide in the concern's manufacturing and sales departments in Sweden, Poland, Holland, Germany, Brazil, China, Canada, and the United States.

Find an Automation Expert Near You >>