L'Oréal automates hair research centre
L'Oréal automates hair research centre

L'Oréal is a French industrial group specializing in cosmetic products, now the world leader in the cosmetics industry.

In 2012, the brand opened the largest hair research center in the world, which is located in Saint-Ouen, France. Nearly 500 researchers work over three stories, formulating new shampoos, treatments, styling products, and hair colors based on scientific advances and hair types. They develop, create, and closely monitor the beauty needs and aspirations of consumers.

The Challenge

'In our MTI (Innovation Methods and Techniques) department, we collect data on the performance and composition of products. This allows us to improve the quality of our ranges and to constantly innovate. Our objective is to improve our production operations and further develop our product testing capabilities.' explains Jérémy Baronnier, Project Development Manager at L'Oréal.

To stay on the cutting edge, L'Oréal needs new automation, modelling, and evaluation technologies in its laboratories. The aim is to address time-saving issues (accelerating the product development cycle, but also freeing up valuable time for technicians/engineers), task repetitiveness, and data collection.

Solution: RG6 and RG2-FT grippers

Inside this innovative research centre, L'Oréal has deployed new technologies for automation, modelling, and a sensory evaluation by integrating robot applications and solutions from the world leader in cobots: OnRobot.

According to Jérémy Baronnier, 'We've been working on task robotization for about 10 years now, but this is the first time we've installed cobots in our infrastructure. We naturally chose OnRobot applications, particularly their RG6 and RG2-FT grippers. We need an agile and flexible system. By installing cobots we are able to meet new challenges much more easily, quickly, and efficiently. '

The RG6 gripper offers optimal flexibility for evaluating hairstyles thanks to the size of the gripper and its improved agility in changing tests quickly by simply clipping and unclipping. As for the evaluation of foam, the RG2-FT gripper allows for better force control thanks to its sensing capability, as well as robustness, in the handling of objects.

A cobot can be used for different tasks and, depending on the needs of the laboratory and the capabilities of the OnRobot grippers, L'Oréal can set up precise measurement units such as for space and force control and 3D handling. With a single gripper, it is possible to multiply the number of tasks performed. Furthermore, it is possible to pre-record approximately 100 movements and install up to 3 or 4 different programs without the need for reconfiguration.

'Thanks to the Quick Changer, we can easily switch from one gripper to another without wasting time. The key advantages of the OnRobot solutions are the gripper's ease of use, flexibility and performance' states Jeremy Baronnier. 'We can speed up our pace of innovation without having to change our entire infrastructure. OnRobot allows us to both anticipate our needs and collect accurate information regarding robotic evaluation, all at a lower cost.'

The benefits of implementing collaborative applications

The transition to new cobot tools has been gradual and very well received by all employees. Unlike the massive installation of robotic platforms, cobots complement the work performed by humans and not only relieve employees of tedious tasks, but also allow them to be assigned higher value duties.

Cobot integration has enabled L'Oréal to improve the well-being of its employees, freeing them from difficult tasks and assigning them more rewarding duties. Costs associated with infrastructure changes have ultimately resulted in savings amounting to several tens of thousands of euros. Finally, multiple performance improvements have been accomplished, increasing ease of use and improving productivity for all operators thanks to precise measurement units: 'Today, we can run 175 formulas per week (7 hours, 5 days). Tomorrow, we will be able to run 504 formulas per week (24 hours, 7 days)' states Rémi Bonafos, Manager of Hair Innovation Methods and Techniques.

Since the arrival of OnRobot to the L'Oréal research laboratory, several other departments have shown interest in these new tools and a desire to embrace fresh perspectives.

Today, OnRobot systems are installed in all L'Oréal hair laboratories throughout France and could soon be rolled out internationally.

About L'ORÉAL

For over 100 years, L'Oréal has specialised in the beauty industry. With an international portfolio of 36 diverse and complementary brands, the Group generated sales amounting to 29.87 billion euros in 2019, and currently employs 88,000 people worldwide. As the world leader in beauty, L'Oréal is present in all distribution channels: the mass consumer market, department stores, pharmacies and drugstores, hair salons, travel retail, brand-name stores and e-commerce. L'Oréal relies on its expertise in research and innovation and its 4,100 researchers to meet the world's beauty aspirations. L'Oréal has made ambitious commitments to meet sustainable development goals by 2030, bringing together its entire ecosystem for a more inclusive and sustainable society. For more information, refer to: https://mediaroom.loreal.com/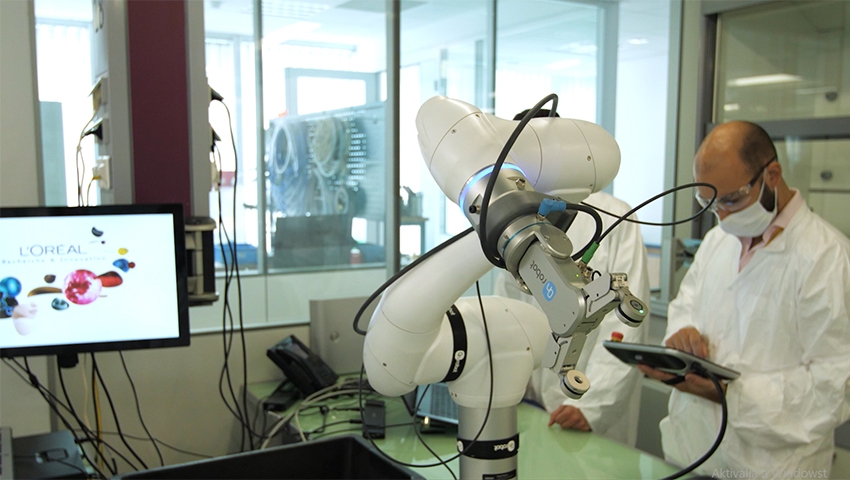 Watch the video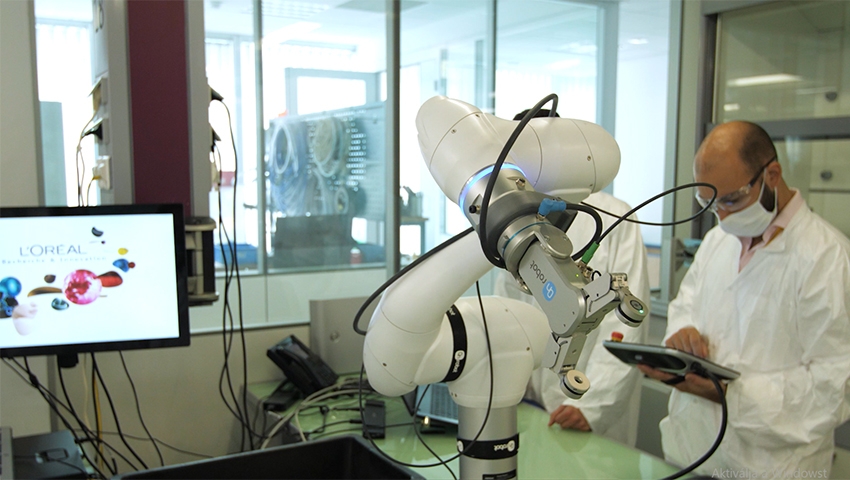 L'Oréal automates hair research centre
L'Oréal is a French industrial group specializing in cosmetic products, now the world leader in the cosmetics industry.
In 2012, the brand opened the largest hair research center in the world, which is located in Saint-Ouen, France. Nearly 500 researchers work over three stories, formulating new shampoos, treatments, styling products, and hair colors based on scientific advances and hair types. They develop, create, and closely monitor the beauty needs and aspirations of consumers.
The Challenge
'In our MTI (Innovation Methods and Techniques) department, we collect data on the performance and composition of products. This allows us to improve the quality of our ranges and to constantly innovate. Our objective is to improve our production operations and further develop our product testing capabilities.' explains Jérémy Baronnier, Project Development Manager at L'Oréal.
To stay on the cutting edge, L'Oréal needs new automation, modelling, and evaluation technologies in its laboratories. The aim is to address time-saving issues (accelerating the product development cycle, but also freeing up valuable time for technicians/engineers), task repetitiveness, and data collection.
Solution: RG6 and RG2-FT grippers
Inside this innovative research centre, L'Oréal has deployed new technologies for automation, modelling, and a sensory evaluation by integrating robot applications and solutions from the world leader in cobots: OnRobot.
According to Jérémy Baronnier, 'We've been working on task robotization for about 10 years now, but this is the first time we've installed cobots in our infrastructure. We naturally chose OnRobot applications, particularly their RG6 and RG2-FT grippers. We need an agile and flexible system. By installing cobots we are able to meet new challenges much more easily, quickly, and efficiently. '
The RG6 gripper offers optimal flexibility for evaluating hairstyles thanks to the size of the gripper and its improved agility in changing tests quickly by simply clipping and unclipping. As for the evaluation of foam, the RG2-FT gripper allows for better force control thanks to its sensing capability, as well as robustness, in the handling of objects.
A cobot can be used for different tasks and, depending on the needs of the laboratory and the capabilities of the OnRobot grippers, L'Oréal can set up precise measurement units such as for space and force control and 3D handling. With a single gripper, it is possible to multiply the number of tasks performed. Furthermore, it is possible to pre-record approximately 100 movements and install up to 3 or 4 different programs without the need for reconfiguration.
'Thanks to the Quick Changer, we can easily switch from one gripper to another without wasting time. The key advantages of the OnRobot solutions are the gripper's ease of use, flexibility and performance' states Jeremy Baronnier. 'We can speed up our pace of innovation without having to change our entire infrastructure. OnRobot allows us to both anticipate our needs and collect accurate information regarding robotic evaluation, all at a lower cost.'
The benefits of implementing collaborative applications
The transition to new cobot tools has been gradual and very well received by all employees. Unlike the massive installation of robotic platforms, cobots complement the work performed by humans and not only relieve employees of tedious tasks, but also allow them to be assigned higher value duties.
Cobot integration has enabled L'Oréal to improve the well-being of its employees, freeing them from difficult tasks and assigning them more rewarding duties. Costs associated with infrastructure changes have ultimately resulted in savings amounting to several tens of thousands of euros. Finally, multiple performance improvements have been accomplished, increasing ease of use and improving productivity for all operators thanks to precise measurement units: 'Today, we can run 175 formulas per week (7 hours, 5 days). Tomorrow, we will be able to run 504 formulas per week (24 hours, 7 days)' states Rémi Bonafos, Manager of Hair Innovation Methods and Techniques.
Since the arrival of OnRobot to the L'Oréal research laboratory, several other departments have shown interest in these new tools and a desire to embrace fresh perspectives.
Today, OnRobot systems are installed in all L'Oréal hair laboratories throughout France and could soon be rolled out internationally.
About L'ORÉAL
For over 100 years, L'Oréal has specialised in the beauty industry. With an international portfolio of 36 diverse and complementary brands, the Group generated sales amounting to 29.87 billion euros in 2019, and currently employs 88,000 people worldwide. As the world leader in beauty, L'Oréal is present in all distribution channels: the mass consumer market, department stores, pharmacies and drugstores, hair salons, travel retail, brand-name stores and e-commerce. L'Oréal relies on its expertise in research and innovation and its 4,100 researchers to meet the world's beauty aspirations. L'Oréal has made ambitious commitments to meet sustainable development goals by 2030, bringing together its entire ecosystem for a more inclusive and sustainable society. For more information, refer to: https://mediaroom.loreal.com/